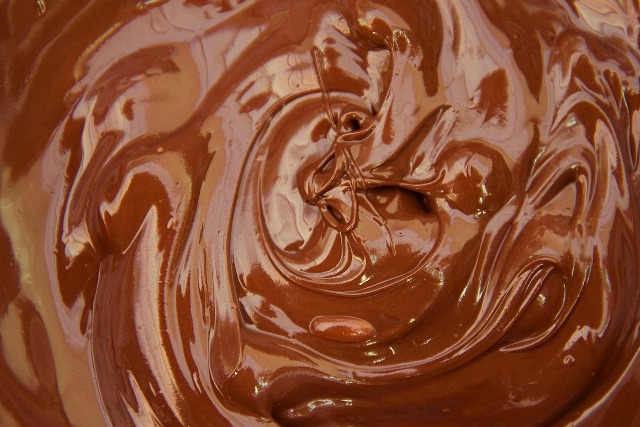 With Easter approaching, the supermarkets are full to bursting with chocolate eggs and sweet treats. Chocolate is universally loved around the world, so I asked our community of travel bloggers about their most memorable 'chocolate experiences'. This is what they told me. 
Chocolate and Bacon Gelato, Carpigiani Gelato University, Bologna, Italy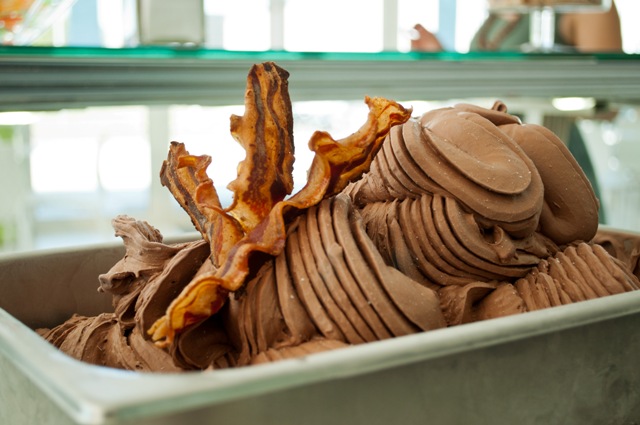 Chocolate chip gelato, mint chocolate gelato and err chocolate and bacon gelato. Yes, you heard right and yes, it actually tastes delicious. The saltiness of the bacon chips add a fabulous contrast to the sweet creamy chocolate gelato and works oh so beautifully.
I couldn't believe it when I first set eyes on chocolate and bacon gelato garnished with crispy rashers of bacon. Made a change from a 99 with a Flake stuck in it. I was at the Carpigiani Gelato University in Bologna where you can learn about the history and science of gelato. But the best bit is that you can also learn the art of making authentic artisan gelato. The gelato lab which adjoins the university was my favourite part of the visit. Here we made vanilla gelato and drizzled it with lashings of rich dark chocolate sauce before sampling the infamous chocolate bacon gelato and more than a few other flavours.
I left the Gelato University with dreams of opening my own little gelato shop offering imaginative concoctions of dreamy creamy gelato in every kind of chocolate combination. Still dreaming!
Suzanne, The Travelbunny
International Chocolate Festival, Óbidos, Portugal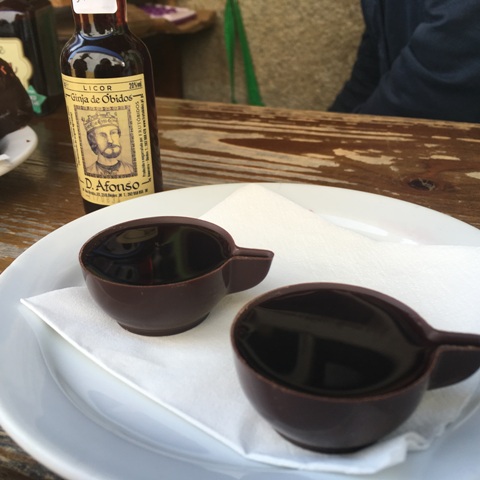 Óbidos is a picturesque Portuguese town of whitewashed buildings surrounded by medieval walls. It makes a perfect day trip from Lisbon, the capital of Portugal, and the best time to visit is during the annual International Chocolate Festival, which takes place every spring from late April to early May.
The festival lasts for about 10 days and includes a full program of chocolate-themed cooking classes, demonstrations, and competitions between professional pastry chefs. You can admire the sculptures made out of chocolate and even attend a chocolate fashion show! Yes, the models really do wear costumes made out of chocolate. Dozens of stalls are set up around the grounds of the medieval castle of Óbidos, selling all different kinds of chocolate creations.
Even if you can't make it to Óbidos when the festival is on, there is one local chocolate specialty that can be enjoyed year-round. This is ginjinha, a cherry liqueur that is served in a dark chocolate cup! You will find shops and stalls offering this treat all along the town's main street.
Wendy, The Nomadic Vegan
Hotel Chocolat – Boucan, St Lucia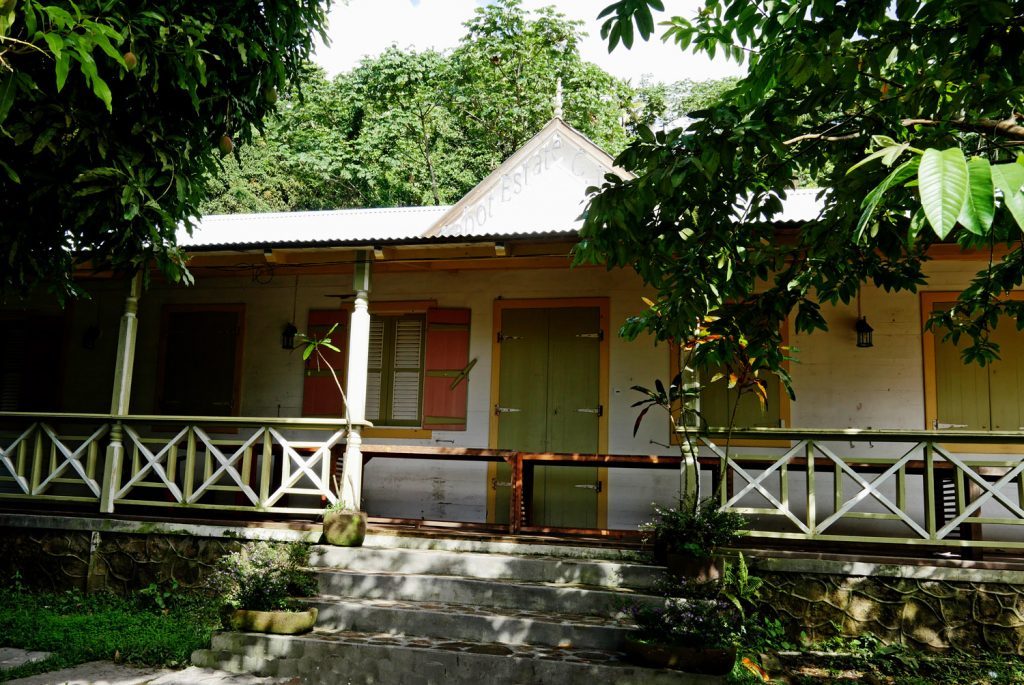 That rather delicious luxury chocolate brand, Hotel Chocolat, has their own Chocolate Estate on St Lucia. Boucan is much more than just a cacao plantation – visitors can take part in their own bean to bar chocolate producing and can enjoy staying in a luxurious chocolate themed hotel with 'pods' for rooms (actually rather luxurious mahogany clad suites), with cacao cocktails and with an incredible cacao themed menu. High up in the St Lucia hills, the hotel, which was developed from the original plantation house, looks out over the pitons to sea. Now a boutique hotel with infinity pool, bar, restaurant and spa, you can even indulge in a Cocoa Juvanate treatment while you are there for a thorough immersion in chocolate! Tour the Boucan Cacao estate as I did and learn more about the fascinating process behind making artisan chocolate, from growing the cacao to harvest, fermentation and drying. It's a great place to relax – and an even better place to indulge in eating chocolate.
Fiona, London  Unattached
Self-guided chocolate tour, Brussels, Belgium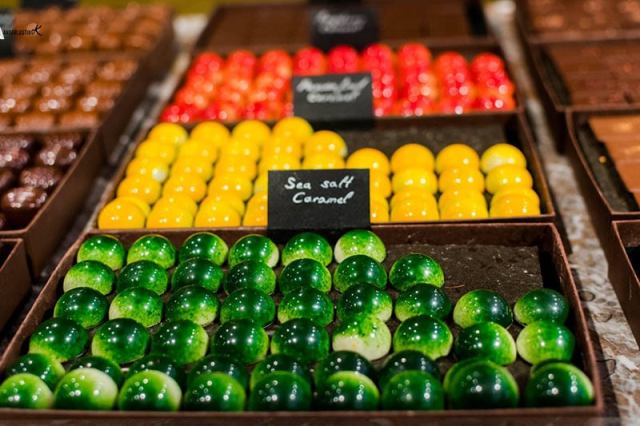 One of the best experiences to have as a chocolate-lover is to visit Brussels! Brussels is the capital of Belgium and there's nothing like trying artisanal Belgian chocolate at the source.  Although technically most chocolate you'll find is Belgian, I love finding the shops where proud chocolatiers source their beans until the moment that it's turned into a bar. One such shop is Frederik Blondeel who uses equipment passed on by his grandfather who once sold coffee.
The great part about taking your own self-guided chocolate tour in Brussels is that you can spend as little (or as much) as you'd like on chocolates.  Don't be afraid to try some of the crazier flavors as some of the flavors that are out of my normal range of chocolate turned out to my favorites.  Similarly, sampling similarly chocolates allowed me to really learn the distinction between the quality of Belgian chocolates, something that only has allowed me to savor the taste of chocolate even more.
Karen, Wanderlustingk
Grenada Chocolate Festival, Grenada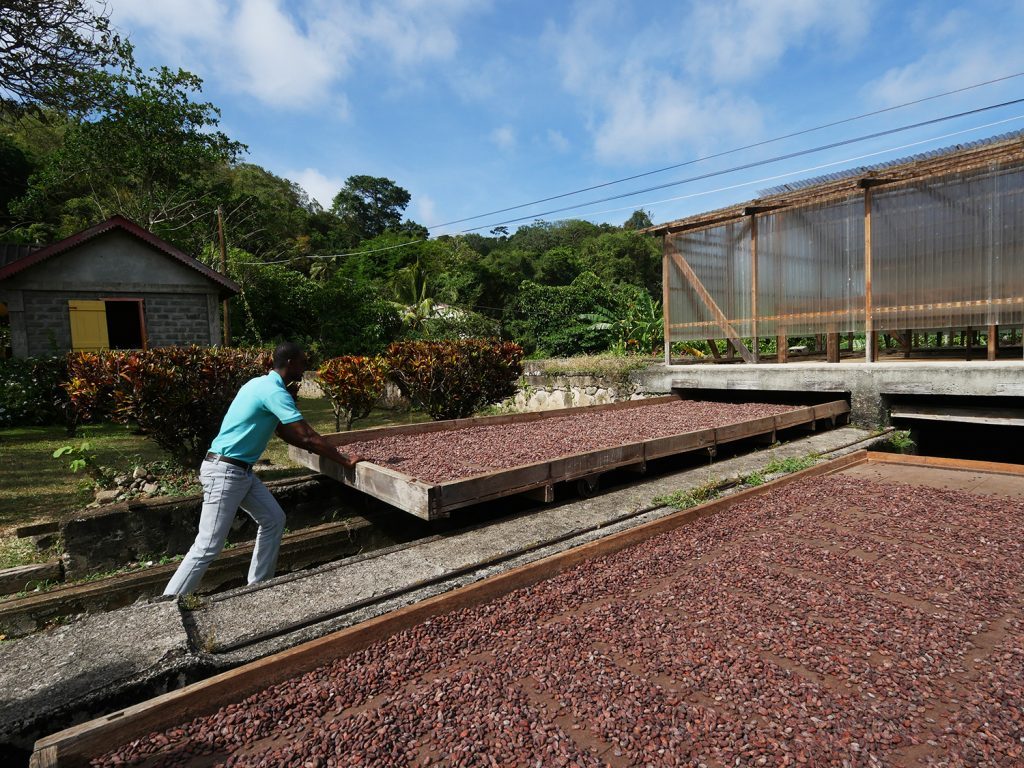 Every year, the Caribbean island of Grenada hosts their annual Chocolate Festival. 2019 will be the 6th year of an event that was started by Magdalena Fielden, a native Mexican who came to the island to raise her family and run a resort hotel. She moved to Grenada at almost the same time that Mott Green started working on the Grenada Chocolate Company – an initiative that has changed the face of Cacao farming on the island. Bean to bar artisan chocolate production means that the farmers make a good living by cultivating cacao – and the chocolate festival is all about celebrating that. With tours of cacao plantations, of the companies producing chocolate on the island (there are now 6 bean to bar producers) and with special events including rum and chocolate tastings at sea, 'be a cacao farmer for the day' events and more, it's a great time to get into a party vibe AND enjoy some of the best chocolate in the world.  The 2019 chocolate festival will run from 31st May to 7th June. Find out more about the Grenada Chocolate Festival on London-Unattached.
Fiona, London  Unattached
Vestri Chocolate Store, Florence, Italy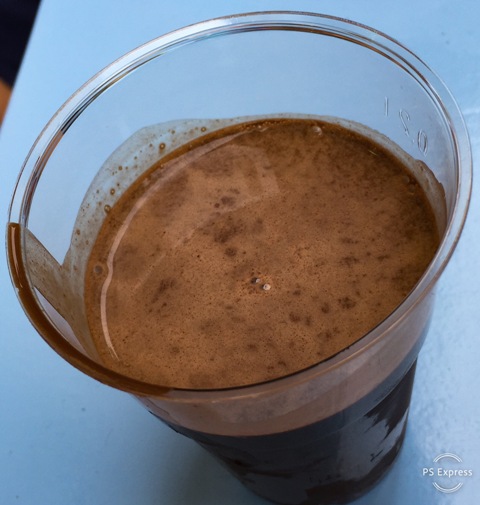 Vestri is a little chocolate store in the Santa Croce district of Florence, Italy. We passed by it every day as we headed out from our B&B, but until our last day in Florence, we didn't actually step into the store. And that was a mistake. Because if we had stepped into the store earlier, we would have visited every single day! We actually went in to pick up some chocolate as gifts for friends back home. As we were making our choices, the owner asked us if we would like to try some chocolate gelato, or drinking chocolate. We ordered the drinking chocolate, since it was early in the day. He brought out a jug of thick creamy ice-cold chocolate that he poured into small plastic glasses. It was the most delicious drinking chocolate I had ever had in my life. A rich molten dark brown, it was bliss in a glass. Of course, we had seconds! If you are a chocolate lover, place a visit to Vestri at the top of your list of things to do in Florence!
Dhara, It's Not About the Miles
Beans to Bar workshop, Chocomuseo, Cusco, Peru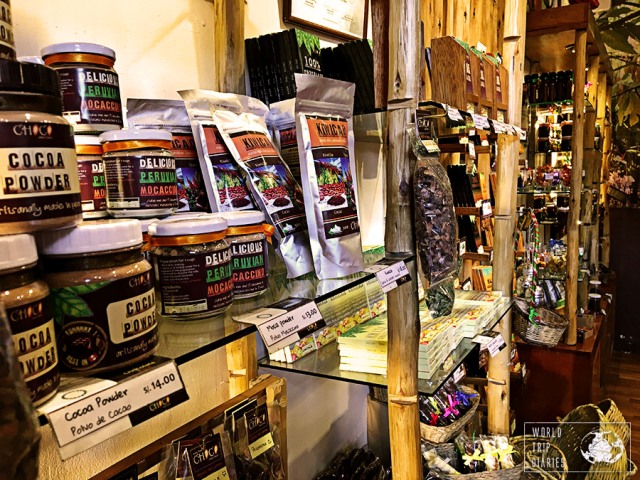 One of the most delicious workshops we've ever done is the Beans to Bar from Chocomuseo, in Cusco. It's a workshop where you make your own chocolate starting from the beans! You roast, shell, crush, paste, and then mold your own chocolate. Meanwhile, the instructor shows you how to make a few drinks the Incas had – like cocoa shell tea and the original hot chocolate. It's a workshop for all age groups and it's a great use for 2 hours of your day.
BUT if you want something different, Chocomuseo also gives quite a few different workshops, and they sell the most incredible range of chocolate-y goods. It's quite hard to leave empty-handed.
And then, if you don't really want to do any workshop, still go visit them and try something from their delicious menu! You won't regret it!
We've visited branches of Chocomuseo from a lot of Latin American countries but none was as good as the one from Cusco. It was our most delicious chocolate experience!
Thais, World Trips Diaries
San Ginés, Madrid, Spain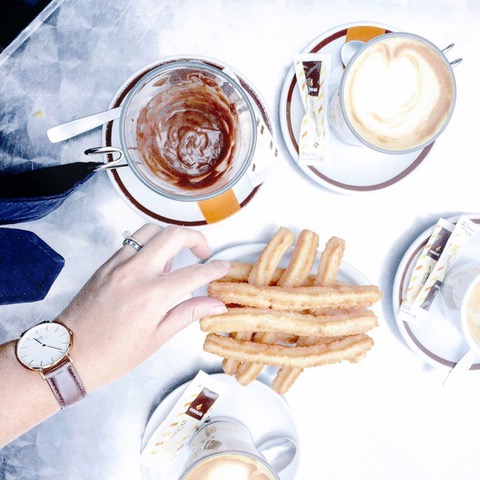 What can be better than chocolate? Hot chocolate, of course! Served with piping hot, crispy churros so perfectly made you can hear it crunch when you bite. Throw in a visit to Madrid's oldest chocolateria and you can start making the case that you're on a cultural, historic adventure, rather than just revelling in gluttony and sugar.
San Ginés lives in a prominent part of town, between Plaza Mayor and Puerta del Sol. Dating back to 1894, its décor reflects Spain's rather serious, austere era, despite the green and gold letters on the door. But the sugar livens up the gloom. Darting waiters, queuing customers, lively chatter. It's all part of the experience, whatever the time of day.
Churros have an international reputation as being either a morning snack or an afternoon pick-me-up.  In Spain, though, they're frequently enjoyed instead of a kebab on a late night out, on the wandering journey home, full of good cheer.
Abigail, Inside the Travel Lab
Best Hot Chocolate, The Hungry Man, Jersey, Channel Islands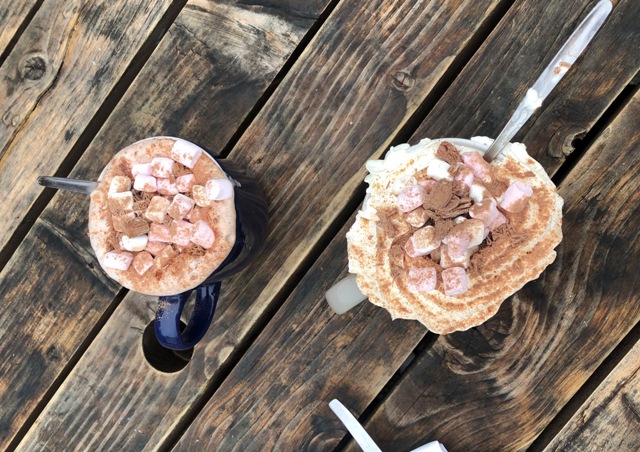 One of the best hot chocolates I've ever tried was in a small shack called "The Hungry Man" in Jersey, Channel Islands. The shack is located in a very picturesque place called Rozel Bay and it's pretty much the only place to eat there on a Sunday weekend. We went there in winter and it was pretty cold, but they had a big menu of warm comfort foods and this absolutely amazing marshmallow hot chocolate. We asked for a regular marshmallow hot chocolate and a hot chocolate with marshmallows and whipped cream on top. Not only did they both look amazing, but they also tasted great. I can definitely confirm that it's the best hot chocolate I've tried in my life and it was worth driving through half of Jersey to get there. (It actually sounds like a lot of time, but it was only 20 minutes or so, as Jersey is a small but nonetheless very beautiful island.) It closes quite early (at 4pm) so it makes sense to arrive in the morning or in the early afternoon.
Liza, Tripsget
Oaxacan Hot Chocolate, Mexico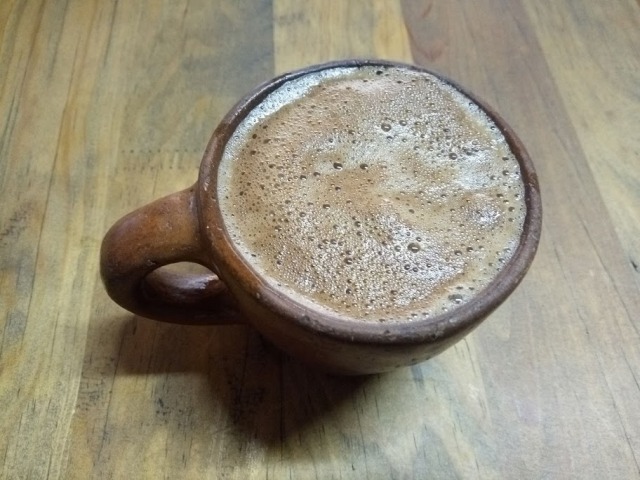 Famed as one of Mexico's most traditional drinks, Oaxacan hot chocolate is commonly consumed in both Oaxaca city and in the surrounding countryside.
It is made from mixing ground-up cocoa bean with sugar and cinnamon, and blended with water using a whisk (modern restaurants use an egg whisk, but traditionally the ingredients were crushed using ametate and mixed in).
Nowadays, there are some variations of Oaxacan hot chocolate – some people prefer the beverage with milk, while others add different flavours like vanilla or even different fruits. These mixes are also sometimes sold in bars which can be consumed in their solid form!
There are places to drink Oaxacan hot chocolate all over the city, but look out for the more traditional restaurants which will probably make the drink by hand.
In the mountains, where life remains more old-fashioned, many cafes and guesthouses will gladly make a steaming cup of chocolate – as the nights are a lot cooler here than most places in Mexico, you'll be very thankful of one!
Claire, Claire's Footsteps
Chocolate Yoga at the Grenada Chocolate Festival, Grenada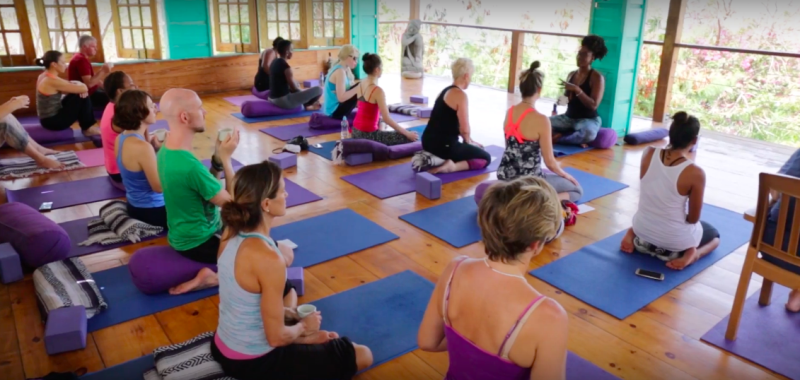 Every year, Grenada holds a Chocolate Fest to honor one of its sweetest traditions. Hosted by True Blue Boutique Resort, one of the events that caught our eye was chocolate yoga. The class was held in their open-air yoga studio, overlooking the marina. We each started with a few pieces of different types of local tree-to-bark chocolate. As we started to stretch and get into the class, we would pause and mindfully experience one of the pieces of chocolate. The class really focused on being present in your body and the flavors and texture of the chocolate in your mouth. We ended the class with a warm cup of chocolate tea, that was surprisingly refreshing. The chocolate yoga class was one of the best yoga classes I have ever taken, and I feel like I left with a new-found appreciation for chocolate.
Ashley, Blissy Life
Lviv Chocolate Factory, Ukraine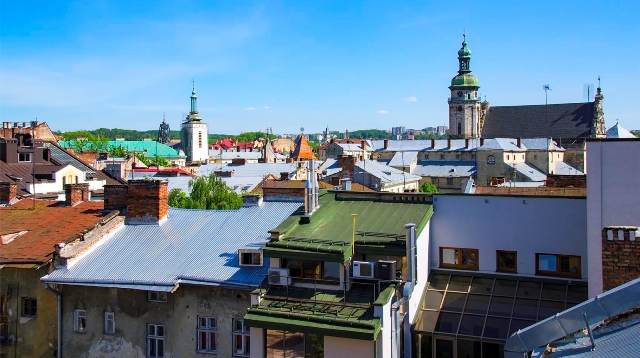 One of my favorite cities in Ukraine, a city where I lived for a few months, is Lviv. Lviv is known for having the best coffee and chocolate. As a chocolate lover, I needed to confirm this myself by visiting one of the 'go to' places for chocoholics like me, Lviv Chocolate Factory. Even before entering, you can smell the chocolate as you get closer and closer. In addition to sampling their chocolate, I love that during your visit you can learn the traditions of chocolate and take a tour of the factory (located on the first levels of the building). Of course, the best part (the highlight) is indulging your sweet tooth by trying some of their handmade chocolates. Their chocolate is just heavenly!
At the factory, you can get chocolate truffles, chocolate coffee and even a chocolate sundae. I recommend you to visit during the spring or summer so that you can go up to the rooftop of the building and enjoy the stunning views of the city, while also indulging in some of their stunningly delicious chocolate. If you're not a chocoholic before then, you will be after visiting Lviv Chocolate Factory.
Olga, Dreams in Heels