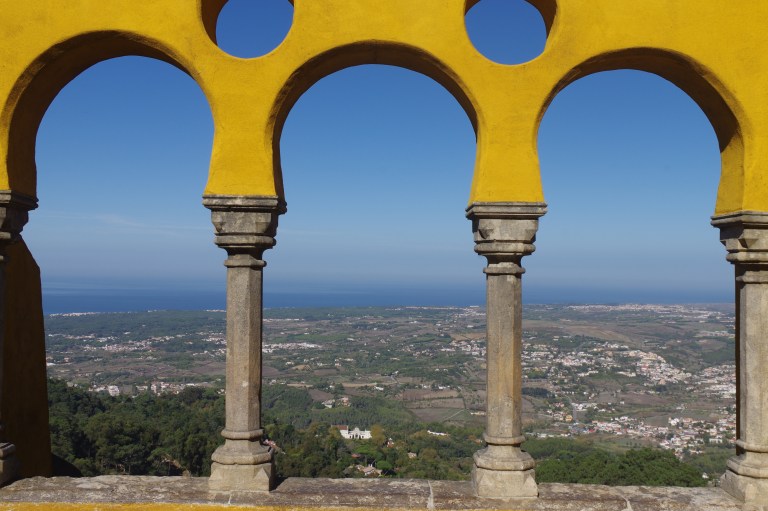 Today we share a guest post by Zen Baby Travel who recently enjoyed the October half term holidays on the Lisbon coast in Portugal.  If you are considering a family holiday, to a luxury hotel resort resort, read on for travel inspiration…
---
3.5 days with Martinhal Cascais have been a blast for all of us – intense, gorgeous and packed. And with such an amazingly family friendly and boutique set up, in all fairness, it's been incredibly difficult to extract the kids and explore Portuguese beauties.
End of October Riviera Portuguesa (also known as Estoril coast ) spoilt us with temperatures over 25C to 30C. It really felt like autumn did not get there.
We headed to Sintra a late morning after a lazy breakfast and kids enjoying an hour Martinhal playgrounds. It took the Ubber about 25min to Sintra historical centre and 40min to Palacio de pena – Euro25 ride. For larger families or kids keen to watch cartoons, Martinhal has luxurious transfers but also good value for money.
Palacio de Pena proved as fairytale beautiful as in pictures. Originally built on a monastery and renovated extensively, the palace has been the summer residence of many Portuguese monarchs between 18th & 19th century. The Ubber left us at the bottom of the park on this glorious sunny and warm day. The climb was quite painful with our cheeky monkeys despite us coming well prepared with lots of sweet briberies. We mostly carried the 4 years old on our back and our 18 months in our arms – quite physical as one can easily imagine. But once up on the terrace they loved the views, Palacio de Pena architecture details with knights, dragons and swords, the fairytale set up with towers, stairs and little courts.
The way down has been joyous and filled with singing – so much easier for all parties! Our 4 years old also was keen on a tuk tuk ride, so we grabbed one at the Palacio de Pena entrance – funny wobbly ride on the narrow cobbled streets. Lots of notable stories and personalities lived in here – including one of my favourite Scandi fairytale writer – Hans Christian Anderson – we passed by his house.
We spent another hour by Sintra historical centre, wandered around cobbled streets, admiring the architecture and indulging in gellatos and beers. Unesco World Heritage since 1995, Sintra historical centre is filled with gorgeous romantic architecture monuments. Martinhal Cascais has some great value for money half days at Sintra but with our 2 young lovely monkeys we knew we need to be flexible and play it by ear, hence Ubber and tuk tuk at our leisure.
The next day we spent few hours in Cascais with the kids – wandering around cobbled narrow streets, snacks by the fortress and palace ruins, art galleries, fisherman port, icecream on the beach.
Cascais felt charming and cosy – could easily understand why it has been residence and a favourite of royals and VIPs alike. Few people were swimming on the cute golf by Cascais centre and on the side there were lots of fishermen boats and fishing nets and apparel.
Sunset is magic by Cascais shores and for a seafood treat we went to Furnas do Guincho . And with Martinhal impeccable childcare, parents felt at ease celebrating extensively friends birthday – few bottles of Esporao flowed beautifully with the Atlantic and red prawns, flamed seabream, lobster bisque and mussels. Next day we all embraced Martinhal spa to speed up the recovery!
With Portugal is known as the California of Europe; Cascais or Sagres would make a perfect warm break December, February half term or Easter holidays. And I can't think of a better place for cappuccinos with the foam on and bellinis at breakfast!
If you enjoyed this post why not follow Zen Baby Travel on twitter.
Image and video copyright – Zen Baby Travel