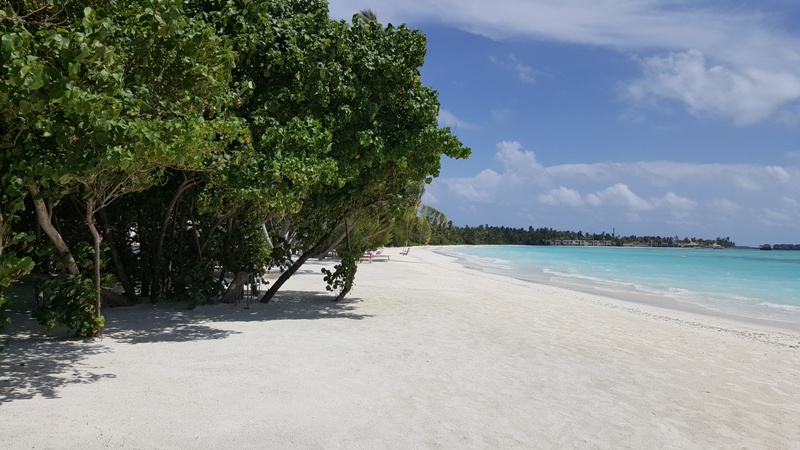 I was scrolling through instagram last week, looking for inspirational travel photos to provide some destination ideas for a future trip. The photos were genuinely incredible, but I wanted to know more about the places. My most picturesque destination, so far, is Kandima in the Maldives (photo above). I asked our travel blogging community to send a photo of the most picturesque place they've ever been – and also to briefly explain why. And here's what they sent …
Aitutaki, Cook Islands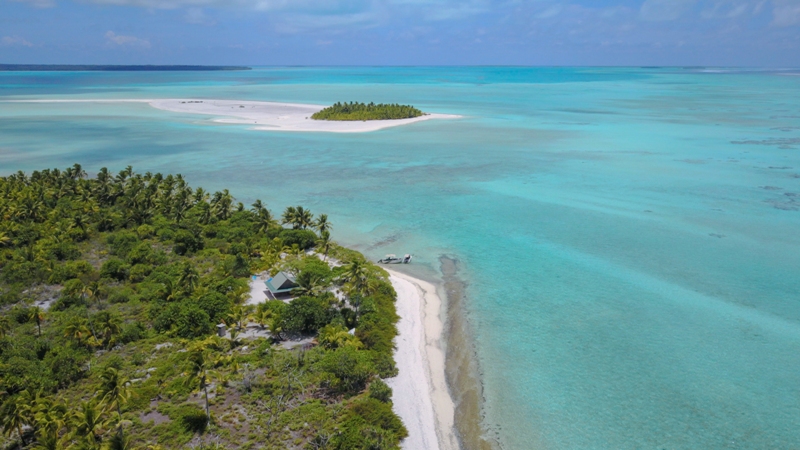 When arriving on Aitutaki, you won't believe your eyes. Aitutaki is a small island in the Cook Islands, located in the South Pacific. Aitutaki looks just like a postcard, with picture perfect crystal blue water and palm trees. Aitutaki is known for its most famous blue lagoon, where you can snorkel, scuba dive and even fish. Take a lagoon cruise out to One Foot Island, a small islet off of Aitutaki with a sand bar, where you feel like you're the only person out there. Aitutaki is a quiet island, with a population of only 2000 people. Just when you arrive it's truly paradise. You won't see water like this anywhere else.
Grenada, Eastern Caribbean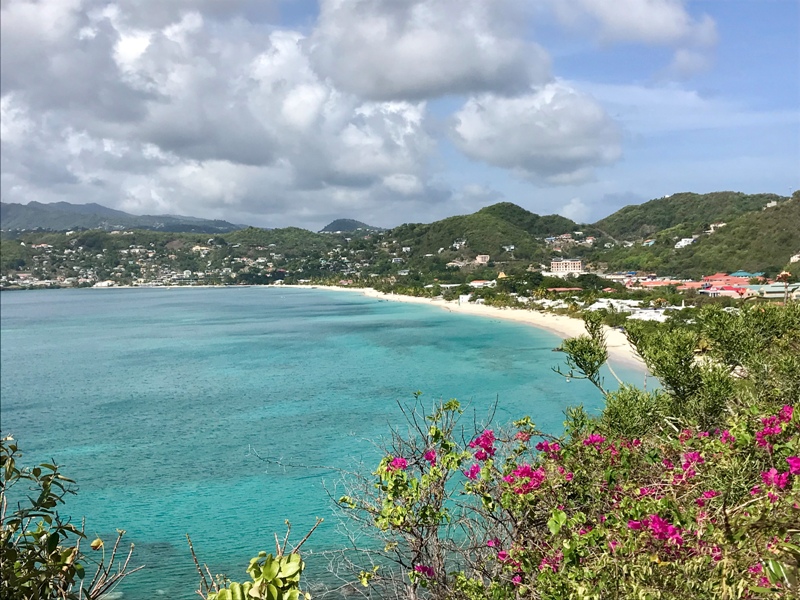 Oeschinensee, Switzerland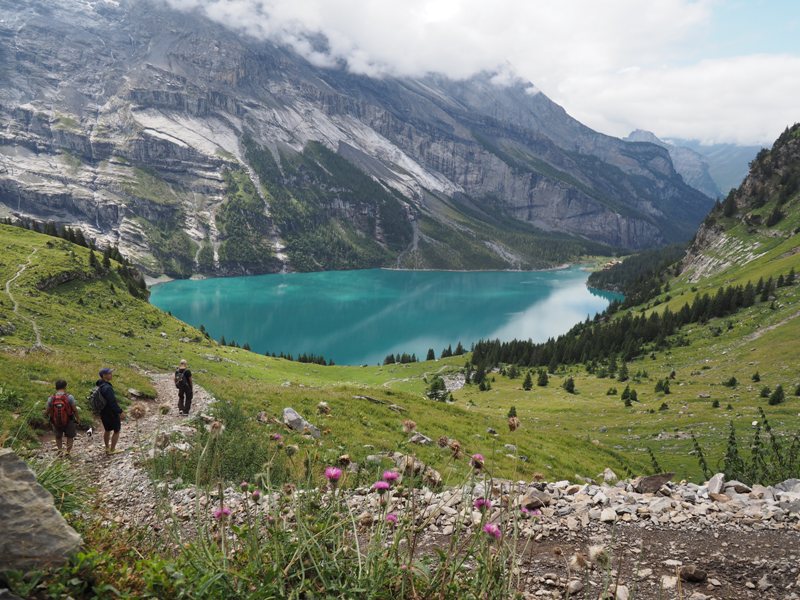 Last summer I visited the gorgeous mountains of Oeschinensee, Switzerland. A ski lift rises from a cluster of chalets, delivering passengers to a trailhead, where you'll be greeted by cowbells echoing through crisp air. The trail winds through trees down the mountain to a pristine turquoise lake – whose water wouldn't look out of place in the Caribbean. But there aren't billions of beach-goers splashing around; it's a perfectly peaceful countryside escape.
Alison, Dance Dispatches
Uluwatu, Bali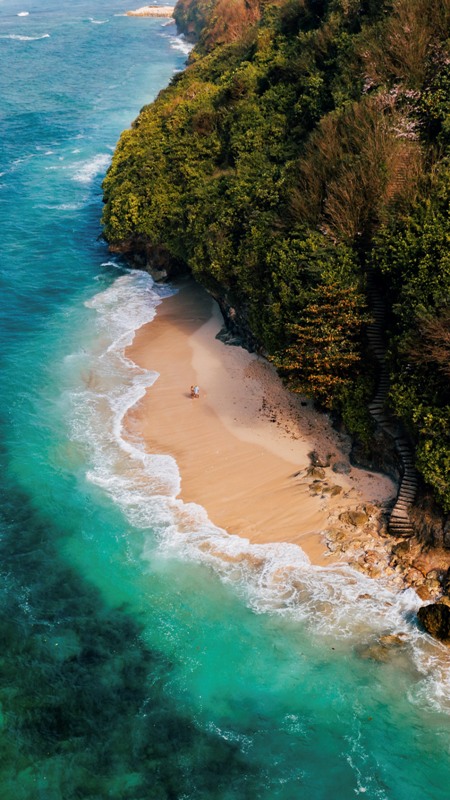 Uluwatu is home to the most amazing beaches in Bali, my favourite is Green Bowl Beach. They aren't easy to get to, with lots of stairs down to most beaches, but it is so worth it at the end. Not only are they great for surfing, sun bathing but also beautiful to drone. We couldn't get enough of taking photos here from above, as they are just stunning. The lush greenery against the white sand and the sea is just perfect. Uluwatu is also full of beautiful traditional Indonesian temples; pretty much every corner of Uluwatu is picturesque!
Hanna, Solar Powered Blonde
Rodrigues, Mauritius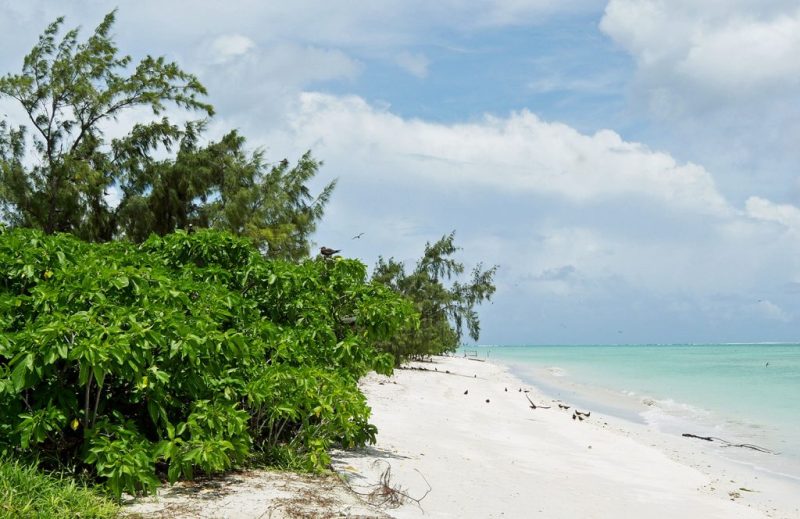 Rodrigues, 560 km east of Mauritius, fits my definition of a tropical island paradise perfectly. It seems to have escaped the commercialisation that has dominated neighbouring Mauritius and instead, there's one four-star hotel and a scattering of three stars, with most visitors staying in bed and breakfast accommodation. Unspoilt sandy beaches, crystal clear waters and a local friendliness makes this island the place for Mauritians in the know to use as their own holiday escape. Surrounded by tiny islets, it's worth taking a boat to explore the wildlife. My own favourite of the islets, Ile aux cocos (the island of eggs) is an island 'owned' by four bird species, protected by human guardians who stay in a beach chalet to make sure they are not disturbed. You might feel as if you are trespassing but the gentle birds feel so secure that they will let you walk right up to where they are nesting.
Fiona, London-Unattached
Kerala, India
Home to fishermen and rice farmers, the Keralan backwaters in India are a maze of waterways, canals and lakes extending for over 900 kms from one end of the state to another. Man-made and natural, fresh and salt, the backwaters are a result of the 38 rivers which feed into the Arabian sea.
There are a few towns scattered around the water, but mainly your eyes will feast on a blanket of palm trees, wildlife, rice fields and the most unreal sunsets and rises. Once on these intricate backwaters all that's left to do is sit back and savor life in the slow lane. Bet you never thought you'd hear that line when talking about India!
Sima, the Curious Pixie
Chefchouen, Morocco
With its blue washed medina buildings perched in the rugged foothills of the Rif Mountain, Chefchouen is perhaps Morocco's prettiest town. You can do all the 'sights' in a day, but this is a place to soak in the atmosphere, get lost in the rabbit warren of blue washed alleyways, and slow the pace down. The main pathways will be crowded with tourists getting that perfect instagram shot, but step away down an alley to escape the throngs and you'll have the views to yourself. Otherwise, take a short hike into the surrounding hills to appreciate the town from afar. The hike to the Spanish Mosque is perfect if visiting Morocco with kids as it's only 1km each way.
Alamut Valley, Iran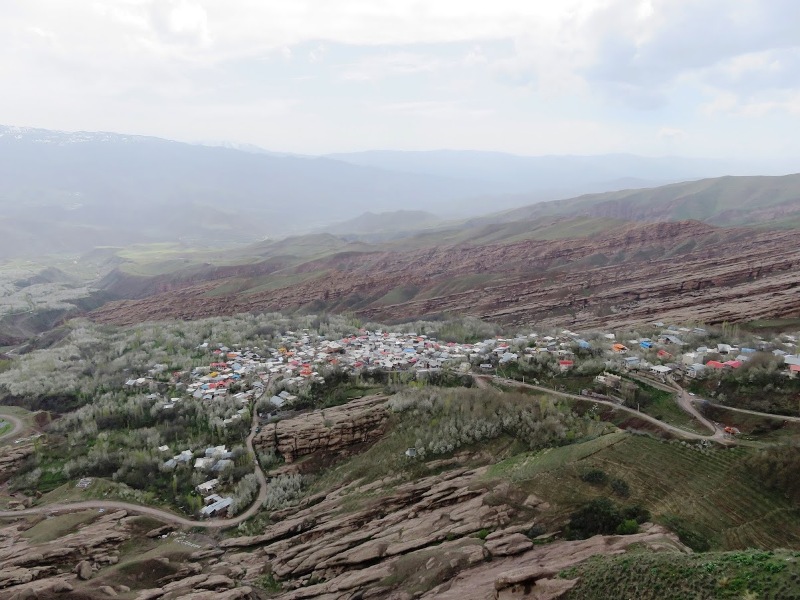 It's been 3 years ago since my trip to Iran and I have been thinking about it since. It was a highlight of my travel history for many reasons. One of them was the beautiful Alamut Valley in the mountainous northern part of the country.
It's an incredibly scenic place, especially in spring when the cherry blossoms bloom in the villages. You can hike to several castle ruins and even though not much is left of them, the views over the mountains and the valleys below is spectacular. I couldn't stop taking pictures everywhere I went.
Ellis, Backpack Adventures
Wanagiri Hidden Hills, Bali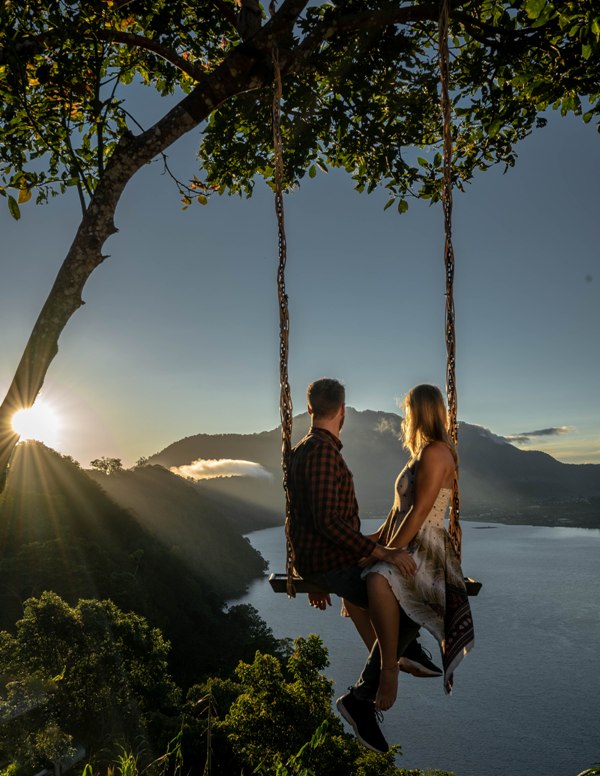 A 3am wake up to jump on our scooter and drive up to the north of Bali for what was one of the most rewarding and beautiful sunrises we have ever seen. The Wanagiri Hidden Hills has quickly become one of the most popular places to visit in north Bali and it's easy to see why. With a collection of photogenic features overlooking the lake, this is a
photographers dream at golden hour.
If you arrive early you will more than likely have the place to yourself. When the staff arrive you will be asked to pay an entrance fee and then the staff will work together as your photography team. Holding up mirrors to give your photographs the best lighting. If you are travelling to Bali, Wanagiri must be on your list.
Gemma, Highlands 2 Hammocks
Luquillo Beach, Puerto Rico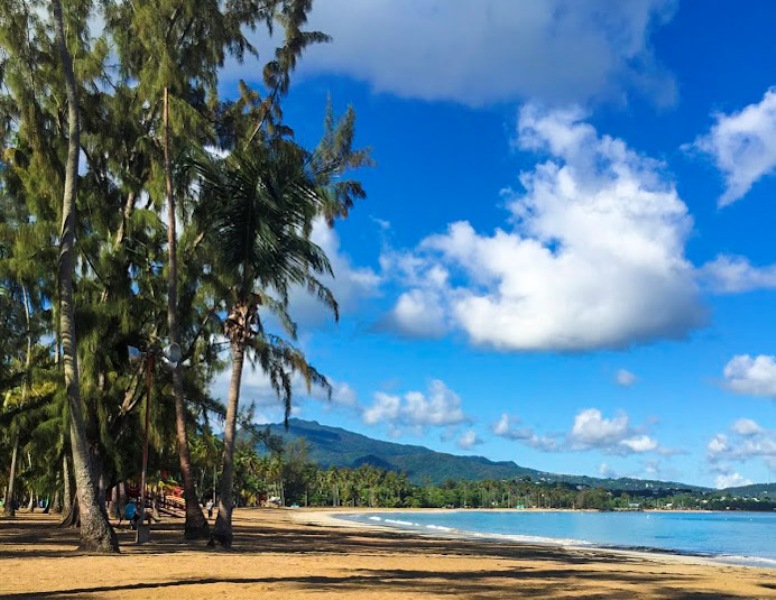 When visiting a tropical paradise, there's no better way to cool off than with a breathtakingly gorgeous beach day. If you're visiting Puerto Rico, you absolutely have to put Luquillo Beach at the top of your must-see places!
Nestled at the foot of El Yunque National Forest on the east side of the island of Puerto Rico, Luquillo beach has picturesque views of rolling green hills and swaying palm trees. The soft sand is cleaned daily, and the beach is nice and calm. It's perfect for swimming, soaking, or floating. Treat yourself to a tasty pina colada served in a pineapple to cap off a perfect beach day!
Natasha, Om Shanti Adventure
Menorca, Spain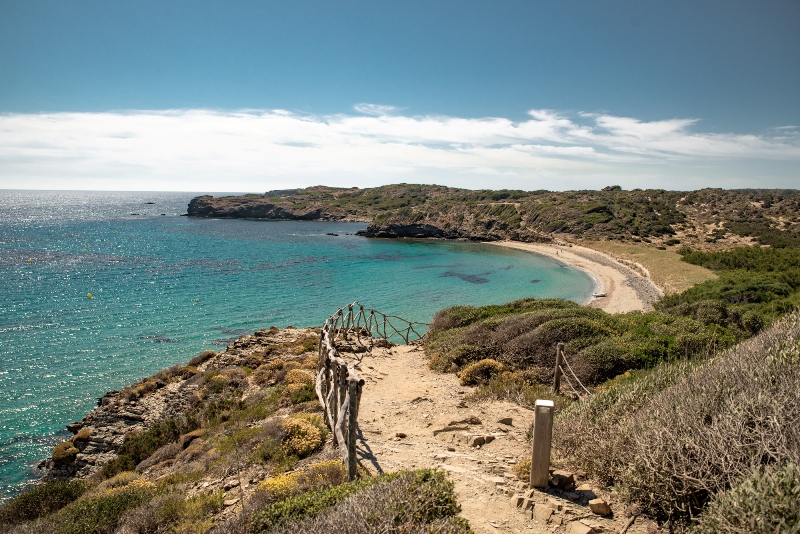 A recent visit to Menorca left me completely spell-bound. Not only was it relatively undeveloped compared to its 'big sister' Mallorca, but it was also absolutely brimming with natural beauty! Get off the beaten track and you don't have to venture far to discover hidden beaches that would rival those of any Mediterranean coastline, picturesque fishing villages and a wild, natural heart. To discover the best of Menorca, consider walking part (or all if you've got the time & stamina!) of the Camí de Cavalls, which circles the island and takes in some of the most spectacular coastlines!
Nadine, Le Long Weekend
Luang Prabang, Laos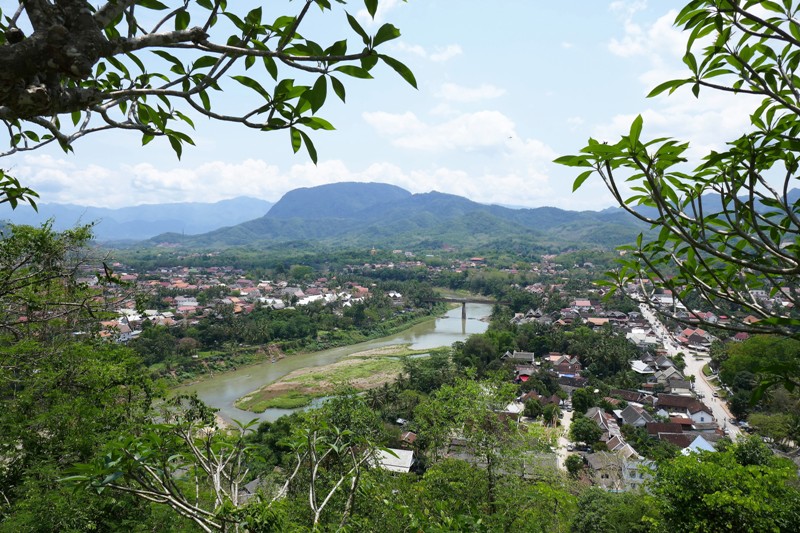 The most stunning views I have ever seen were in Luang Prabang, Laos. This conservative and upcoming backpacker favorite holds many surprises. I was shocked when I reached one of the highest points in the city, where a tiny temple sits, because I saw this! A gorgeous little city, nestled among the still present nature, following along the rejuvenating and powerful river. It is a sight to behold and worth the mini hike to the top!
Chelsey, The Ninja Gypsy
Saariselka, Finland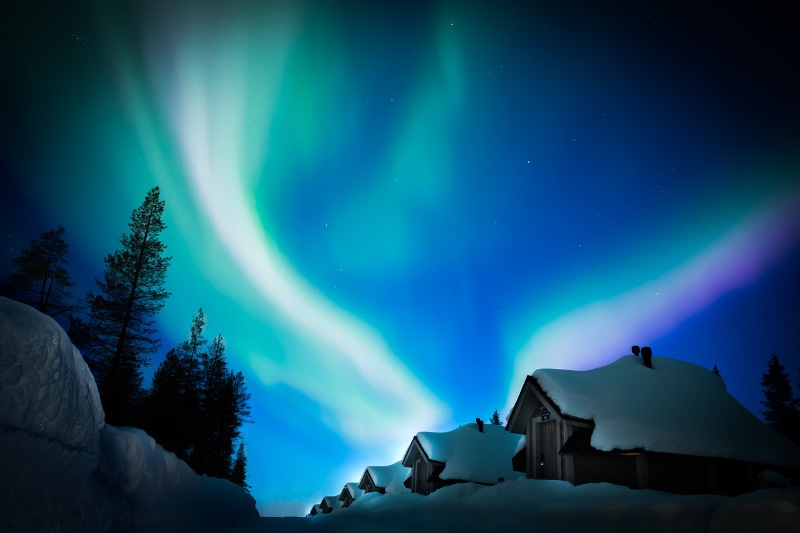 One of the mo,st beautiful places we have ever been was Saariselka, Finland in the winter. If you ever picture a "winter wonderland" you'll find it in Lapland. Between the colorful, dancing Northern Lights, the beautiful snowfall all around, and the reindeer roaming about, Saariselka is the perfect place for a picturesque winter getaway. You can typically find the most active Auroras between the Fall and Winter months, and it will be a sight you won't soon forget!
Sara, Our Kind of Crazy
Mykonos, Greece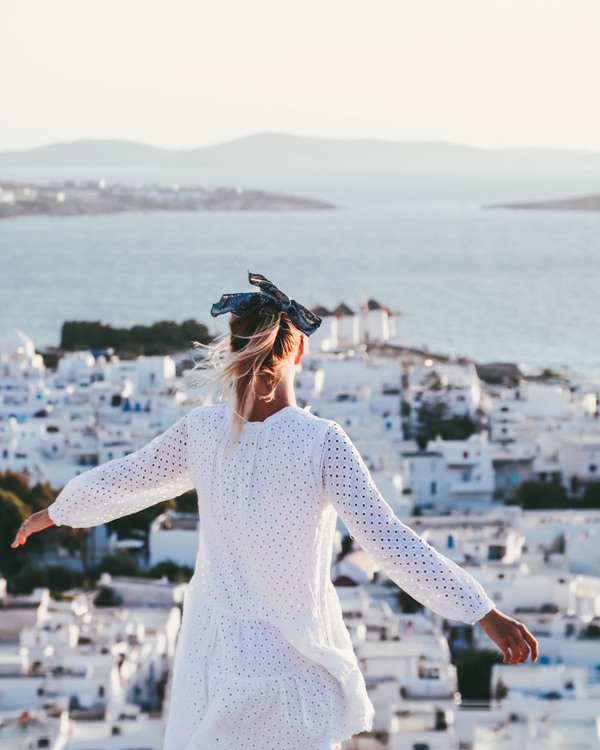 Mykonos is the most picturesque European island I have ever travelled to. With perfect white sandy beaches, blue sea and beautiful white houses with blue shutters; it is definitely the most photogenic island I have been to! The old town has a maze of cobbled streets with white walls and blue stairs; it really is a unique little town. The best way to explore this island is to rent a scooter and drive around, stopping at various beaches along the way. Make sure not to miss the Panagia Paraportiani church in the old town, also for the best view of the sunset!
Hanna, Solar Powered Blonde
Torres del Paine National Park, Chilean Patagonia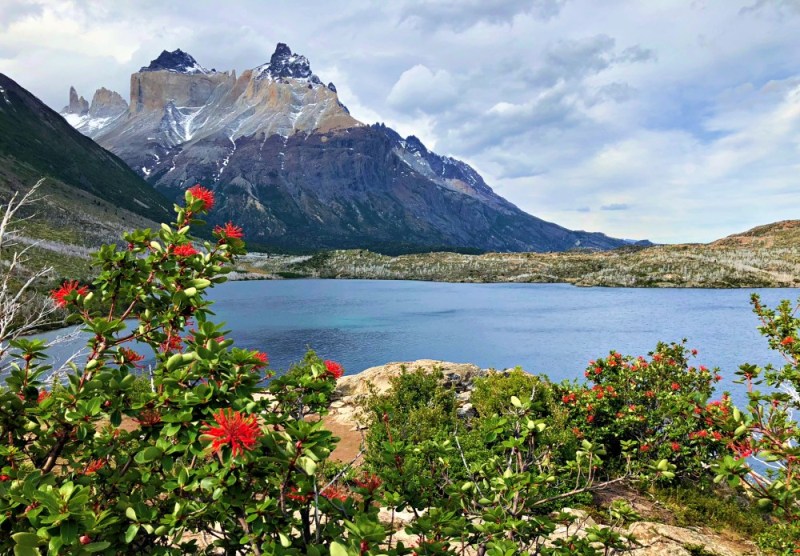 Torres del Paine National Park in Chilean Patagonia is spectacular.  The hike to French Valley (read about it here) is a great way to experience the best of it.  The day hike starts at a turquoise lake and proceeds past hundreds of shrubs covered in red flowers in the spring, to another alpine lake with the dramatic Cuernos del Paine jutting high above.  The trail then proceeds up French Valley to enormous snow-covered peaks, with a glacier gliding down the side across from the towering Cuernos del Pain.  In the distance, bright blue lakes dotted with tiny islands provide the perfect backdrop.  It is one jaw-dropping scene after another.
James, Travel Collecting
Antarctica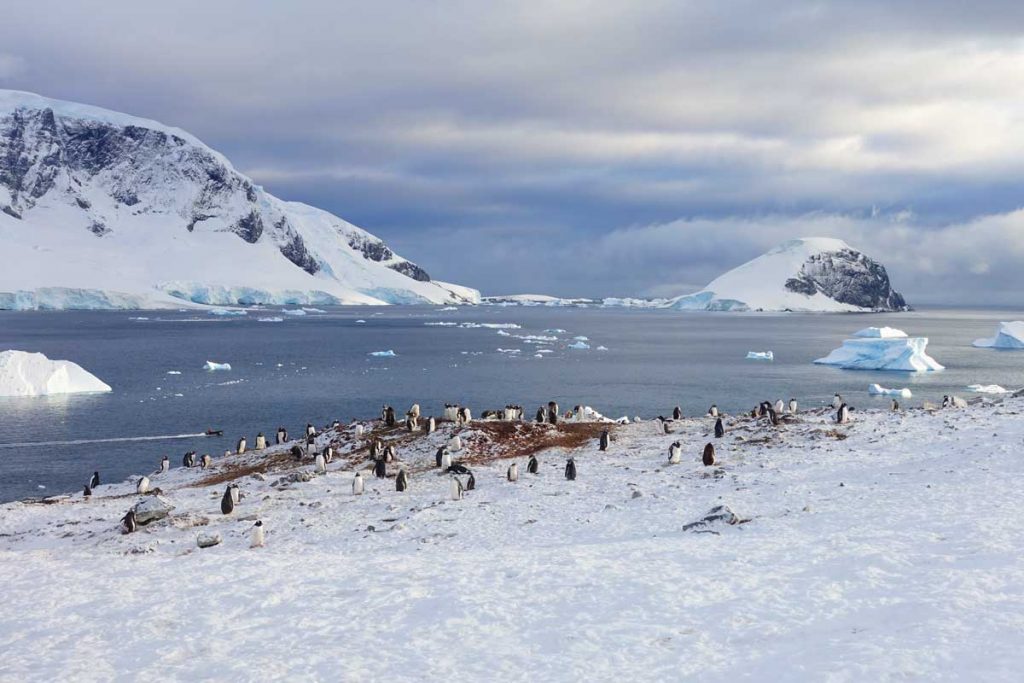 Antarctica – "The Last Continent" – is a special place. Its dramatic and pristine landscape, as well as amazing wildlife, is simply unforgettable. All of the excursions here are a photographer's dream. While the tourist season in Antarctica happens mostly during the summer months of November to March, it still can get pretty cold, so make sure to dress properly for your Antarctica journey.
Halef and Michael, The Round The World Guys
Nusa Penida, Bali