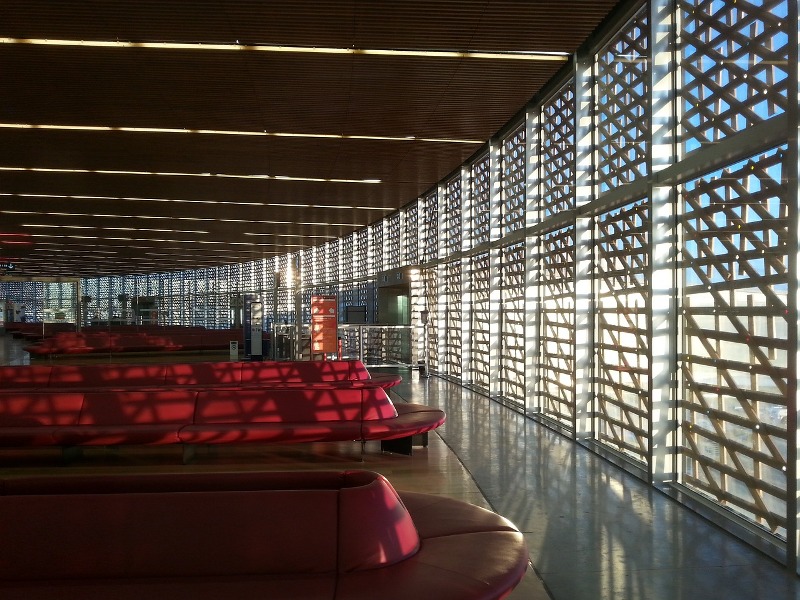 Airports … love them or hate them … as travel bloggers we spend a lot of time travelling through them. But are some better than others? Are they all bland open spaces filled with characterless rows of chairs, or have some been developed to make our journeys more memorable, and comfortable? We asked our travel bloggers for their most memorable or quirky airport feature, and this is what they told us.
Lamp Bear, Hamad International Airport, Doha, Qatar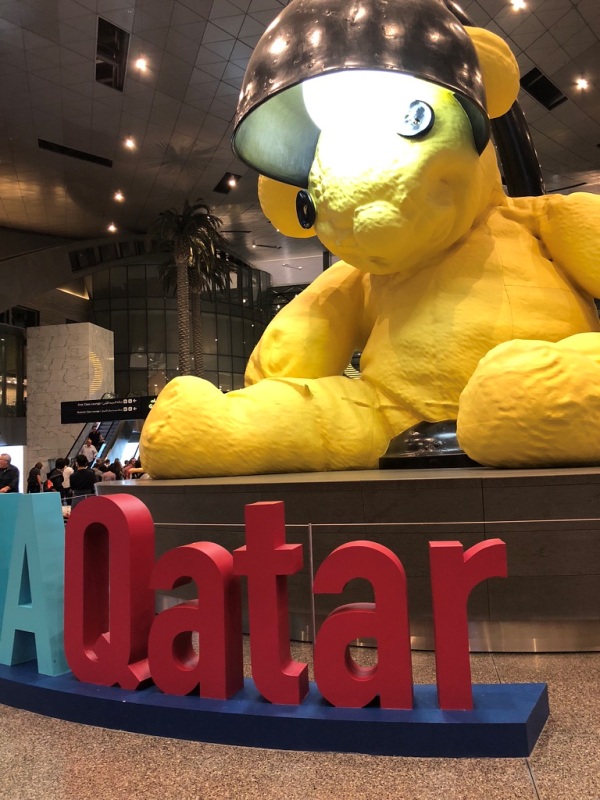 Towering above the passengers of Doha's modern airport, Lamp Bear is located in the south node, and you certainly won't be able to miss it! At 23 feet tall, the creation by Swiss artist Urs Fischer spans multiple levels of the building's interior and makes a stark contrast against the otherwise contemporary looking surroundings. Indeed, its slightly crumpled, slouching appearance does look rather out of place in the luxurious foyer, and the biggest impression it often leaves the visitor is 'what were they thinking'?! The fact that this second-hand bear was picked up for a cool $6.8m from Christie's auction house in New York only adds to the sense of confusion. But bewilderment aside, it is an impressive sculpture – even more so when you realize it was crafted entirely out of cast bronze and not the usual dense foam you'd expect of such an object – and one that will evoke a reaction from visitors of all ages.
Nadine, Le Long Weekend
And another for the Hamad International Airport …
Bronze Sculptures, Hamad International Airport, Doha, Qatar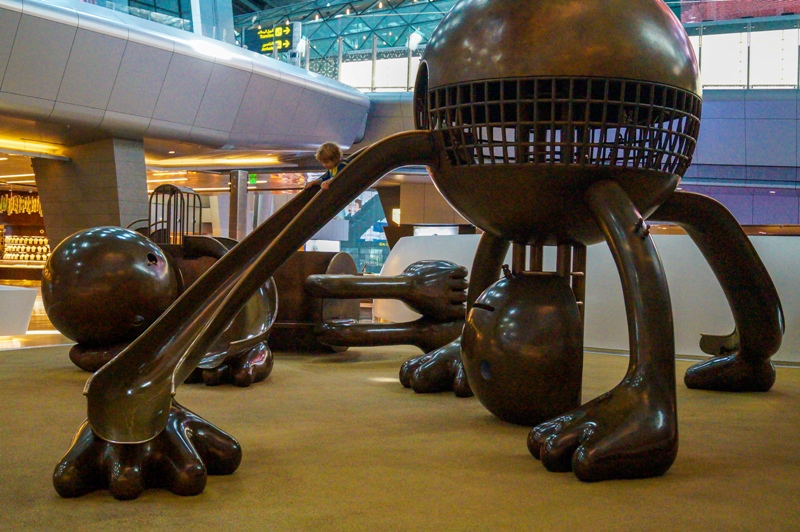 Hamad International Airport, Doha, is extremely well organised and is often voted as one of the best family friendly airports in the world. It makes for a very easy landing if visiting Doha with kids, or even if just transferring through.
The best bit? The eight bronze sculptures in Concourse C that have been designed by Tom Otterness as a playground for kids. The large-scale figures seemingly play with one another, and have slides and seats for limbs and a climbing frame for a torso. And if you look carefully, you will spot miniature figurines hiding amongst the giants. These are an artwork in their own right, but a fantastic respite for parents needing their kids to burn off some energy before a long flight.
Jenny, TraveLynn Family
Minute Suites (Atlanta, Charlotte, Philadelphia and Dallas Airports), USA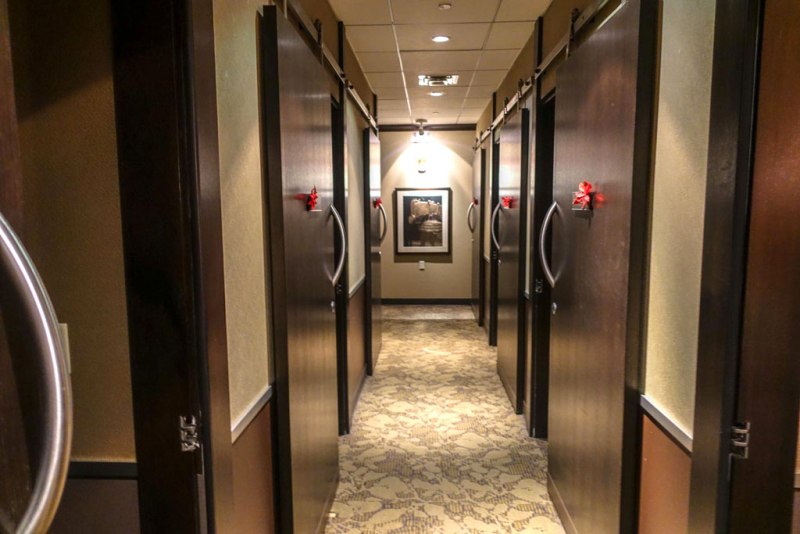 If you are a big fan of airport lounges, you'll want to check out the Minute Suites in select airports. Technically it's not a traditional airport lounge, it's just a resting pod, or a room. Here, you can find your own sofa bed, pillows, blankets, TV and desk. And also, you can control the temperature and light, as well as choose your own white noise if needed.
The idea of having your own space, a zen and quiet place in a busy airport, is becoming more and more appealing for a lot of travelers. Currently, you can find Minute Suites in the Atlanta, Charlotte, Philadelphia and Dallas Airports.
To get into the Minute Suites, you can purchase your stay on the spot, or you can use an airport lounges membership, like Lounge Buddy or Priority Pass. We love using our Priority Pass membership, which gives us access to more than 1200 airport lounges worldwide, including the Minute Suites.
Halef, The Round The World Guys
Open Courtyards, Barcelona Airport, Spain
A city as fun, festive and alive as Barcelona could not fail to show its true character in its airport. The Spaniards enjoy the outdoors and do not miss the chance to have a drink or two with their friends on a street terrace throughout the year. Taking advantage of the good weather enjoyed most of the time in this country!
Anyway, all this is to tell you that the Barcelona airport – showing off the city where it is located – has grasped the character of this wonderful city and has chosen (in its new terminal) to include two wide open courtyards where one can sit in the sun on a terrace while waiting for his plane to leave. Brilliant, if you ask me!
Inma, A World to Travel
Digital Gym, Incheon Airport, South Korea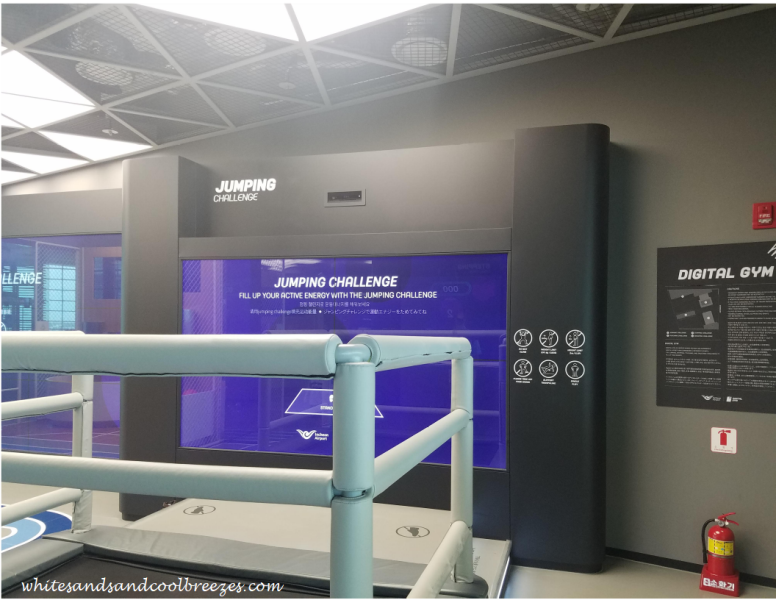 Incheon Airport, located in Incheon, South Korea has a very cool activity room. The airport calls it a Digital Gym and they have two located in Terminal 2. Luckily, during a 12-hour layover before our 12-hour flight, we found these Digital Gyms. It consisted of a trampoline game, that tracked and showed you just how high you jumped. A hoops area that guided you to throw your ball into a specific hoop to get the maximum points. A floor game, basically like those dance video games but projected onto the floor, so when you stepped into the right area it would recognize it. And a few others that were perfect for keeping us not only entertained but giving us a bit of exercise too!Digital Gym, Incheon Airport, South Korea
Cassie, White Sand and Cool Breezes
Piano Bar, Atlanta Hartsfield-Jackson Airport, USA
I was not looking forward to a 4-hour layover in the Atlanta Hartsfield-Jackson airport (USA) at the tail end of my trip. Looking for a pub where I could have a beer and chill out, I saw a sign, 'Piano Bar', and a long row of windows. There was a table open right next to the window just behind a grand piano, where a musician was kicking out some upbeat jazz. I ordered a beer and food, expecting typical bland airport fare, but thought "It's still a nice location, with actual live music!" Beer was fine, and to my surprise, the food was super tasty. Meanwhile, the pianist was very entertaining … it wasn't just background lounge music, it was like going to a real bar to catch a show, people clapping at the end of each song. Four hours passed in no time. If you have time to kill in Terminal A, I recommend the Piano Bar. Food is supplied by Varasano's Pizzeria, and music by some genuinely talented pianists.
Shara, SKJ Travel
Ipads, Toronto Pearson Airport, Canada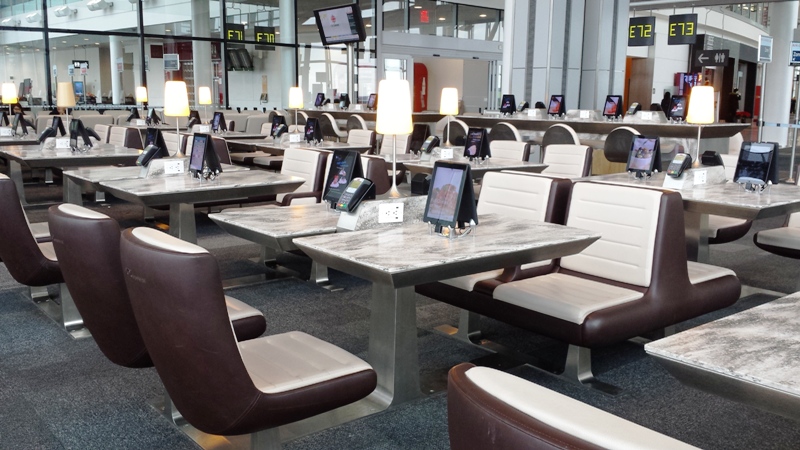 When I was stuck for an entire day in Toronto Pearson Airport because the airline overbooked my flight, I had plenty of time to walk around the terminal and discover all the things there were to do there. After checking out the duty free, the shops and the restaurants, I sat down at one of the gates, and to my surprise, I noticed that every table was equipped with an iPad connected to the internet. Not only that you can browse the web from it, but you can also see the flight information and order food without leaving your seat. The dishes you order come directly to your table and you can pay by card using the POS on the table.
There are over 2000 iPads around Terminal 1 and 3 at Toronto Airport.
Joanna, The World in My Pocket
The Jewel Changi, Changi Airport, Singapore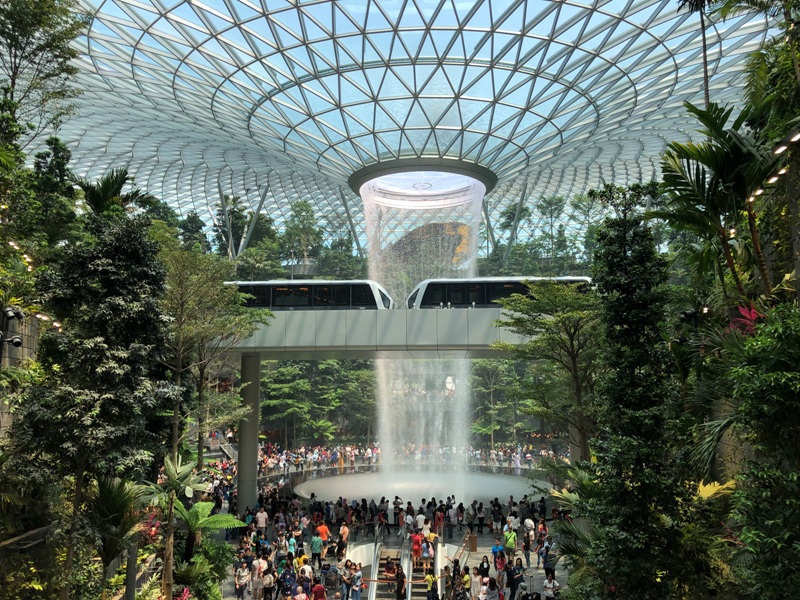 Changi Airport was voted one of the best airports in the world and it never fails to deliver. Like the Marina Bay, the airport has numerous Installation arts, a butterfly garden, a cactus garden, a large-scale slide, a hedge maze, a suspended trampoline, and many more features that make the airport an attraction of its own.
The Jewel Changi is the airport latest addition. It is a nature-themed shopping and entertainment complex shaped like the dome in the center of the airport with a total gross floor area of over 130,000 sqm; the Rain Vortex is the focal point of Jewel featured as the world's tallest indoor waterfall. It has been one of the most shared landmarks on Instagram among travel bloggers and jet setters.
Other than that, the mall also includes a Canopy Park, Forest Valley, an IMAX theatre, and the first permanent Pokémon Center in East Asia outside of Japan.
Kenny, Knycx Journeying 
And another fan of the same airport …
Butterfly Garden, Changi Airport, Singapore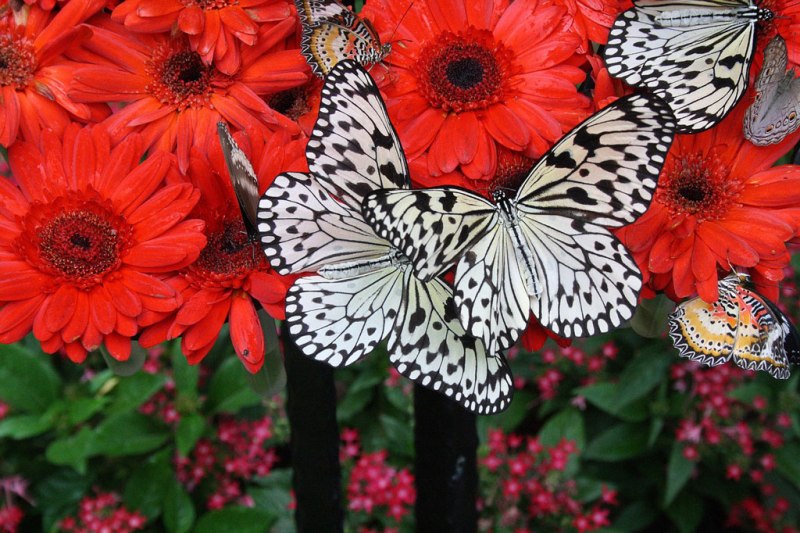 Changi Airport, the airport in Singapore, has been rated one of the best airports for many years now. State-of-the-art technology, cleanliness, free massage chairs, swimming pools, are just some of the things that you can find in the Changi airport. But one unusual feature stood out to me the most, the butterfly garden.
There are more than 40 species of butterflies and 1000 actual butterflies. They are not in a cage but a specifically designed environment that is supposed to mimic its natural habitat. It also has an amazing 6m waterfall inside the butterfly garden!
Sean, Living Out Lau
Amsterdam Schiphol Airport Library, The Netherlands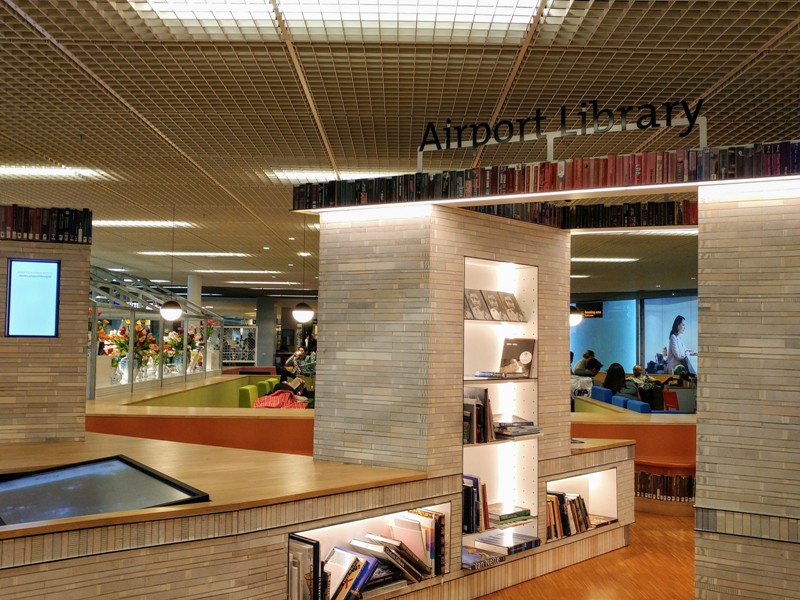 In some of Europe's smaller airports, you'll be lucky to find an available seat at your boarding gate or a drinking fountain. However, in the Netherlands, Amsterdam's Schiphol Airport (AMS) provides its travellers with a modern library that remains open 24/7. The bright lighting and desks are great for business travellers and bloggers, who are keen to get some work done in a quiet atmosphere. There are also comfy chairs and lounges for travellers that simply prefer to relax on their layover.
A library wouldn't be complete without books, and you'll find plenty of reading material for use in the airport. (The Amsterdam airport library is a reference library, rather than a library check out.) In addition to books, the library has a few iPads and visitors can download movies about Dutch culture – available in a variety of languages – to pass the time.
Alison, Dance Dispatches
Harmonic Labyrinth at Dallas/Fort Worth Airport, Texas, USA
Dallas/Fort Worth International Airport houses a multimillion-dollar public art collection and even offers free docent-led tours. The majority of the artistic offerings are concentrated in DFW's Terminal D. If you find yourself in this luxe international terminal on a layover, be sure to explore its unique harmonic labyrinth.
"Circling" is a 3-D interactive sculpture made of curved blue glass walls arranged in four concentric rings. Sensors embedded in the floor trigger lights and sounds as you wander the maze. The labyrinth is intended to provide a soothing, meditative escape for harried travelers. Don't miss the rhyming riddle at the center with navigation clues!
Ingrid, Second-Half Travels
Roger Federer at Zurich Airport, Switzerland
I love arriving in Zurich Airport and almost always being surprised by Roger Federer when I come through the gate. No, not the real Roger, but a life-size video of him on a wall that is created and sponsored by, yes you guessed it, a local Swiss bank. But let's not focus on that. Instead, it's the fun things Roger says to you as you arrive that always make me laugh or smile.
A few months ago it was just something simple like "hey, welcome to Zurich. It's great to see you here". All in a quite conversational tone. You could almost believe he is speaking to you!
Now there is a new one that is even better. Roger invites you to take a selfie with him and cheekily says "don't worry, no one is looking". The video then shows a person-sized shape next to him on the wall where you should stand. Lots of fun! Take a look at the video:
Roger, Expert World Travel