Here in the UK we are fast approaching the start of the busy festival season. So today we're looking at festivals around the world, as visited by our travel bloggers. 
We Color Festival, Buenos Aires, Argentina
When looking for festivals around the world and you want to party in style, look no further. If in South America, get yourself to Argentina and look out for the We Color Festival. We attended the festival in Buenos Aires but you can also find it in Cordoba, Mendoza and even in Uruguay. Make sure you wear your most perishable clothing and get ready to be powder-coated in color.
The We Color Festival is an event to celebrate in nothing but color. Not only will you find thousands of youngsters dancing all throughout the day to the sounds of a headline DJ. But, there are also various activities taking place in the surrounding areas making it a unique and colourful experience. All the color power is provided on-site.
Daniel James, Layer Culture
Vivid Sydney, Australia
Although Sydney is a popular summer destination, one of the best festivals in the city, if not the country, happens in the winter months – Vivid. Vivid Sydney, billed as a 'Festival of Light, Music, and Ideas', occurs every year from late May through early June.
Vivid features unique and creative light installations throughout different areas of the city, best experienced on an evening, self-guided Light Walk. Popular precincts of Vivid include Circular Quay, Chatswood, Taronga Zoo, and Darling Harbour. Light projections on buildings, such as the Opera House and the Museum of Contemporary Art, set to music, are spectacular and sure to impress. The installations and projections make for an unbelievably stunning outdoor gallery to explore, unlike anywhere else. There's also a range of thought-provoking talks and live music, making Vivid an amazing event to visit.
Katie Dundas, The Accidental Australian
Loy Krathong Festival, Chiang Mai, Thailand
The Loy Krathong Festival takes place every year on the evening of the 12th month in the traditional Thai lunar calendar. While it is celebrated throughout the country, it is probably most famous in Chiang Mai, where you can experience a sky full of lanterns, which is absolutely magical.
During the Loy Krathong Festival both locals and tourists release thousands of lanterns into the air, which makes for an unforgettable memory and beautiful views.
When you see one of the insane pictures on social media about the festival, it probably is from a paid event, where people pay for a ticket (50-400$) and release the lantern all at the same time. However, the traditional festival takes place in the heart of the city, where you might not be able to take the same picture, but will truly have a unique experience of the festival.
Michael Gerber, mscgerber
Pako Festa, Australia
It's no secret Australia is a multi-cultural nation. And nowhere is this better displayed than at Geelong's much loved Pako Festa. The city's multi-cultural heart of Pakington Street is transformed into an outdoor extravaganza. With over 100,000 people coming together to celebrate our fabulous ethnic diversity. People come to dance and sing, participate in workshops and exhibitions and enjoy live entertainment on six world music stages. The highlight of the day is the dazzling street parade featuring 90 floats and hundreds of performers from local ethnic communities and schools. After the parade you can treat yourself to mouth-watering food from around the globe.
Audrey Chalmers, See Geelong
Electric Daisy Carnival, Las Vegas, USA
EDC stands for Electric Daisy Carnival. Vegas is the main location for EDC, and it draws over 400,000 people each year! This one of the largest electronic dance music festivals in the United States. In addition to hundreds of the world's top DJs, EDC offers visitors unique art installations and rides. The art at EDC is uniquely colorful, interactive, bright and thrilling. They are designed to push the boundaries of your imagination. Above all, the culture at EDC is one of PLUR (peace, love, unity and respect). It is a place that anyone can come to be themselves and connect with others.
EDC started in LA as a warehouse rave series in the late 1990s. The first Electric Daisy Carnival festival was in California. After 2011, EDC moved to Las Vegas where it has been a permanent production ever since. This festival is so remarkable that it won the title of "Festival of the Year" in 2017 at the Electronic Music Awards.
Valentina Djordjevic, Valentina's Destinations
Oktoberfest, Munich, Germany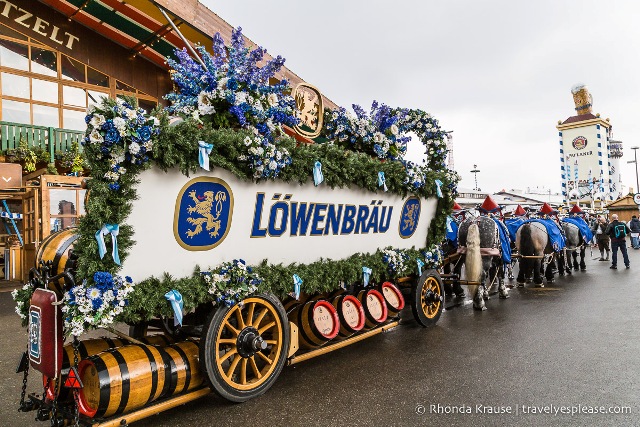 Oktoberfest in Munich, Germany, began in 1810 as a celebration of a royal marriage, but went on to become an annual event, growing into one of the largest folk festivals in the world.
Oktoberfest has stayed true to its roots, with many elements from the festival's early days being important components in the modern celebration. A parade still kicks off the festivities, just like at the original Oktoberfest. The festival also incorporates traditional clothing, food, music, and most famously, locally brewed beers.
Each year, millions of people from around the world attend Oktoberfest and have a good time singing together in beer tents, spinning around on carnival rides, and drinking millions of litres of beer. Prost!
Rhonda Krause, Travel? Yes please!
Las Fallas Festival, Valencia, Spain 
When it comes to noise, colour and excitement, it's tough to beat the annual Las Fallas Festival in Valencia, Spain. Rooted in both history and culture, the festival began centuries ago as a religious celebration of the feast day for St. Joseph, the patron saint of carpenters but has evolved into a 5-day fireworks festival. Taking place between March 15th and 19th each year, highlights include the burning of giant papier mache sculptures installed through the historic streets of Valencia, as well as music, fireworks, processions and traditional food such as paella, sangria and typical street foods. It's one big spectacular display of Spanish culture that's truly unforgettable.
Michele Peterson, A Taste for Travel
Bridgwater Guy Fawkes Carnival, Bridgwater, UK
Bridgwater Guy Fawkes Carnival takes place each year in the Somerset town of Bridgwater, UK. Whilst the town is a quiet rural town, once a year it comes to life with an illuminated night carnival originating back to 1605.
The carts are built by carnival clubs, many taking the whole year to design and build and are illuminated by hundreds of thousands of light bulbs. On the night of the carnival they are pushed and pulled around the town by tractors incorporated into the design while music blares and gangs dance. Others are static tableaus depicting a theme. The whole procession takes over two hours and is followed by squibbing. Squibs are huge hand held fireworks, unique to Bridgwater measuring up to half a metre. Over 150 are held above the heads of the squibbers on poles until they extinguish marking the end of the carnival.
Suzanne, Meandering Wild
Water Festival, Myanmar
The water festival is getting commercially big in Thailand as international tourists flood into the country during that week to join one the biggest festivals of the year. In Myanmar, the festival is called 'Thingyan' (a.k.a. 'Songkran' in Thai). It is the Burmese New Year Festival and usually falls around mid-April. The celebration also takes places in other Southeast Asian countries and even East Asian countries like China, Taiwan, and Hong Kong, where it has a large Buddhist culture.
Everything in the city is wet – because traditionally, people are supposed to subtly and gently sprinkle water on one another during the festival as a part of the cleansing ritual to welcome the New Year. It is believed that everything old must be washed or thrown away as it would bring bad luck to the owner.
Kenny Chow, Knycx Journeying
Benicassim Festival, Spain
Music festivals are often associated with welly boots and dancing in the mud but Benicassim Festival in Spain offers non-stop sunshine, tapas and dancing on the beach. There are not many festivals in the world that bring world famous music acts such as Florence & The Machine, Kings of Leon and Muse to a small seaside town. However, an hour North of Valencia you will find a festival that does just that. Due to the Spanish temperatures there is no music during the day, instead festival goers spend the daytime relaxing on the beach, wandering the quaint streets of Benicassim town or enjoying a sangria or two before the music starts at sunset and continues until sunrise. If you are looking for a mud-free music festival where you can dance under the Spanish sunset, then Benicassim is the one for you.
Darren & Lauren Faramagan, Faramagan