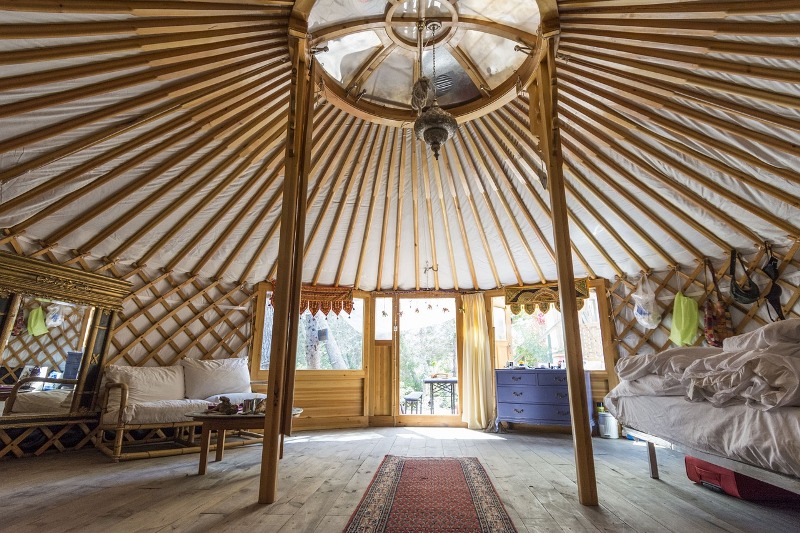 Glamping has become a buzzword in the travel industry, with 'posh camping' options now regularly appearing alongside traditional campsite pitches. Many are home-from-home luxury, others are located in some of the most incredible places on Earth. Here's a selection of glamping accommodations as vouched for by our travel blogging community.
Merzouga Luxury Desert Camp, Sahara Desert, Morocco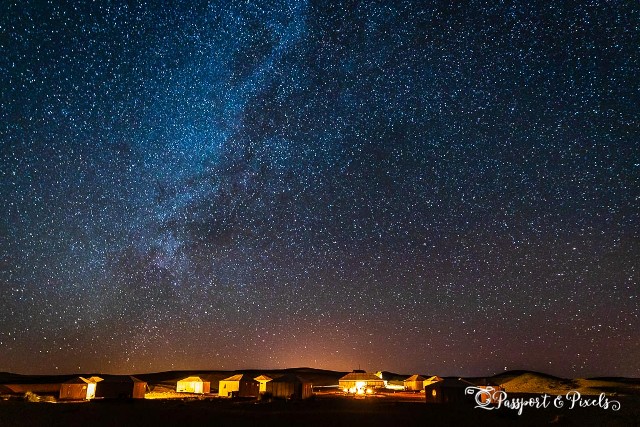 By far the best place I've ever been glamping is the Merzouga Luxury Desert Camp in the Sahara Desert, Morocco.
Nestled in between rolling sand dunes on the edge of the desert, this place is part campsite, part luxury hotel. With all the benefits of camping – the fresh air, the peace and quiet, the closeness to nature – but with none of the drawbacks. No lying on the hard ground, no freezing to death in the chilly desert night, no weeing al fresco. Instead you have luxury safari tents with ensuite bathrooms, huge comfy beds, heating, hot water, and electricity. During the afternoon you get to explore the sand dunes or take a camel ride up to the top of the highest one to drink wine as the sun goes down. At night you're served a delicious three-course meal before settling down by the roaring camp fire as the milky way twinkles overhead. Then you fall asleep, warm and cosy in your luxury tent. One word of warning though – after this, you'll never be able to go back to regular camping!
Bella, Passport & Pixels
Wrinklers Wood Glamping, Cornwall, UK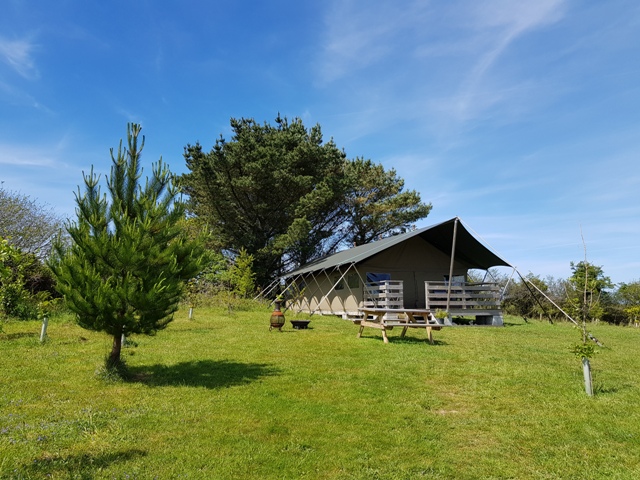 If you're looking for a countryside retreat in Cornwall that lets you get back to nature without compromising on luxury, then Wrinklers Wood Glamping is the place for you. Tucked away down leafy lanes, just a 10 minute drive from St Agnes, the site is small and secluded, with 2 safari style tents that sleep up to 6, and a hideaway cabin in the woods, perfect for couples. The tents come with all modern conveniences (including ensuite bathroom and fully equipped kitchen), and the subtle African theme throughout makes you feel like you're on safari. Days are spent exploring woodland trails, walking to the pub for lunch, or heading to the coast and checking out the tin mines. Back at camp it's all about toasting marshmallows, enjoying glasses of wine on your private veranda as the sun sets, before burrowing down in the cosy beds for a night under canvas.
Heather, Conversant Traveller
Glamping in Botswana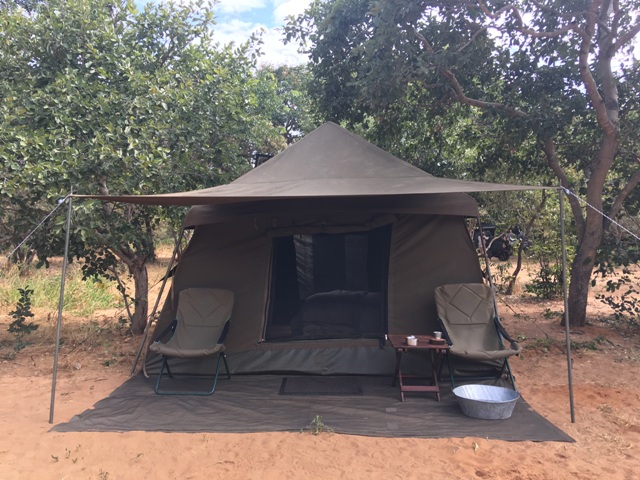 One of the best ways to explore Botswana is on a tented safari trip. Camping in Botswana is a fantastic way of getting closer to nature and of completely appreciating the local wildlife. While lions, hyenas and other predators will only be heard during the night (the roar of lions can be heard for up to 4 km!), during the day it is not uncommon for animals such as baboons, vervet monkeys and even elephants to get closer to the camps as they eat their way around the savannah.
Camping in Botswana, however, doesn't have to be rough. Indeed, it's so luxurious that it should be considered camping proper. Tents are very large, with comfortable beds that have plenty of comforters and pillows to make your night sleep cozy and warm. A hot water bottle is placed in the bed each night to warm it up before guests go to bed. The tents are illuminated by lamps that use solar power. There is a separate outdoors bathroom and a toilet in each tent.
Glamping in Botswana is, quite simply, an experience of a lifetime.
Claudia, My Adventures Across The World
Big Berry Resort, Slovenia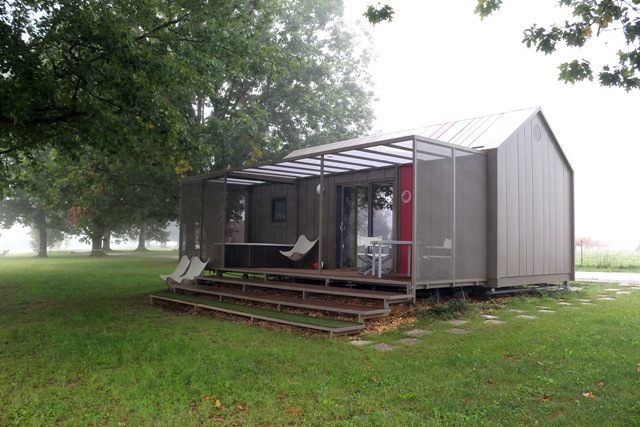 The best place for glamping is the Big Berry Resort in Slovenia, where you can experience the beauty of the Great Outdoors without having to give up the bare necessities: a comfortable bed, clean toilets, and Wi-Fi. By the River Kolpa in the town of Primostek in Slovenia is a one of a kind resort that provides luxurious camping experiences with their well-designed mobile homes, world-class chefs, and spa service. With a big range of in-house activities like weight training, yoga, hula hoop, cycling, swimming, and canoeing, it impossible to get bored during your time at Big Berry Resort. At night, they also host regular events where you can socialize with other campers, like their outdoor cinema.
Karolina, LazyTravelBlog
Loveland Farm, Devon, UK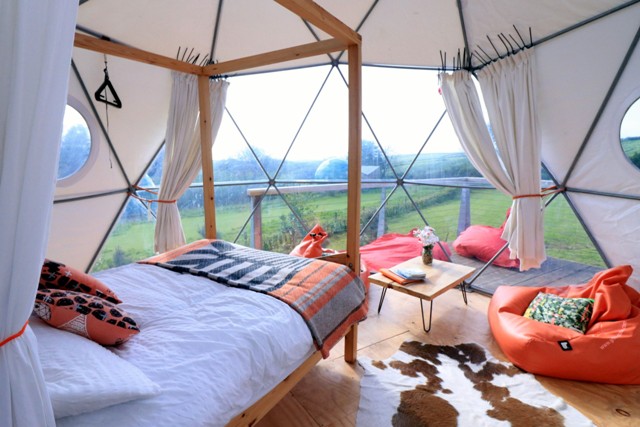 In rural North Devon, right by the coast, you will stumble upon one of the most beautiful glamping sites you will ever lay your eyes on. Loveland Farm is a remote glamping site filled with Scandinavian-inspired eco-domes and tipis, founded by husband and wife team, Jeff and Karina. Loveland Farm prides itself on its sustainability; their eco-friendly ethos is infused into the site. Green technologies are used throughout, from their recycled woodchip 110kw biomass system to their award-winning compost toilets. Each pod not only comes with a hand-made four poster bed, a table, bean bags, and a wood burner, but also its own private kitchen and bathroom. Loveland Farm promises a relaxing and luxurious break, paired with an opportunity to explore the nearby coastal towns of Clovelly, Bideford and Barnstaple.
Lucy, Far Away Lucy
Glamping at Hidden Valley Yurts, Monmouthshire, South Wales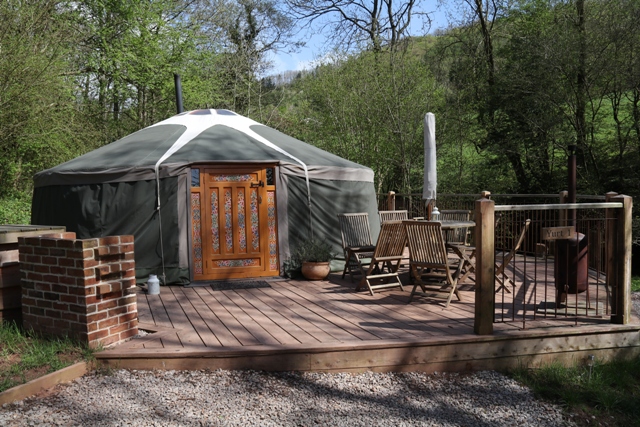 Hidden Valley Yurts, set deep within the South Wales countryside are a beautiful collection of traditional Mongolian yurts. The five yurts are nestled among ancient woodland, next to a stream, with wonderful views of the Welsh countryside. Each yurt has a brightly coloured front door, which are all traditionally hand-painted. At the heart of each yurt is a cosy log burner and bright hand-painted furniture. Outside they each have a private decked area, with BBQ and chiminea. The yurts sleep between five and seven people making them perfect for families. The yurts share a covered kitchen area, which has everything needed for self-catering, and shared bathroom facilities.
Hidden Valley Yurts are found on a large site, complete with meadows and woodland. There is plenty to do without leaving the site, with dens to build in the forest, hours of hide and seek to be played, a large grassy area for ball games and several rope swings dotted about. Further afield, South Wales can be explored, with its pretty towns and castles. For adventure-loving souls, try kayaking on the River Wye, mountain biking in the Forest of Dean or gorge scrambling near Abergavenny. The combination of the beautiful traditional yurts, the welsh countryside and the many nearby activities, make this place a winner for families.
Nicky, Go Live Young
Elephant Hills Rainforest Camp, Khao Sok National Park, Thailand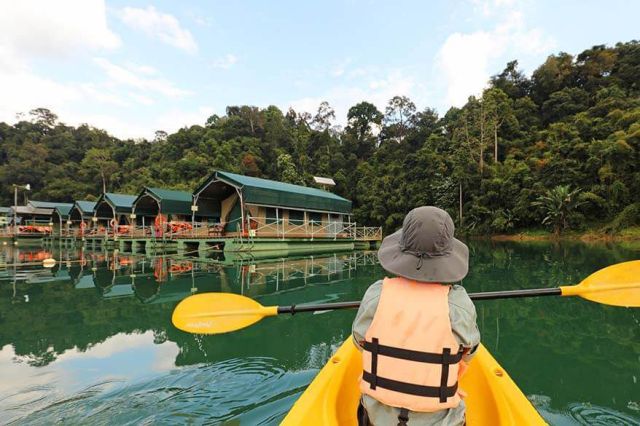 One of the nicest glamping experiences we ever had was staying at the Elephant Hills in Khao Sok National Park in Thailand. Set in the middle of the jungle, this resort offers two different camps with luxury tented accommodations. Both camps are really nice, but staying in the floating Rainforest Camp is truly unforgettable; once in a lifetime experience.
Rainforest Camp is a floating tents accommodation, along the shores of Cheow Lan Lake. It takes almost an hour to get there by boat, and there is nothing around you, except for the lake and the jungle. You can go kayaking, swimming in the lake, join a guided jungle trek, or simply relax on the terrace of your tent. Several types of monkeys, including gibbon, can be frequently seen along the shores of the lake, and if you go walking in the jungle, you'll probably see lots of smaller animals.
Every tent has a private terrace overlooking the lake. They are all equipped with a double bed, a shower room, and a toilet. There is a restaurant at the camp and everything is taken care of for you. All you have to do is relax and enjoy the scenery. It's glamping at its absolute best!
Here you can read more about this incredible accommodation and all that you can see and do at the Elephant Hills in Thailand.
Jurga, Full Suitcase
Camp Baboon, Bristol, UK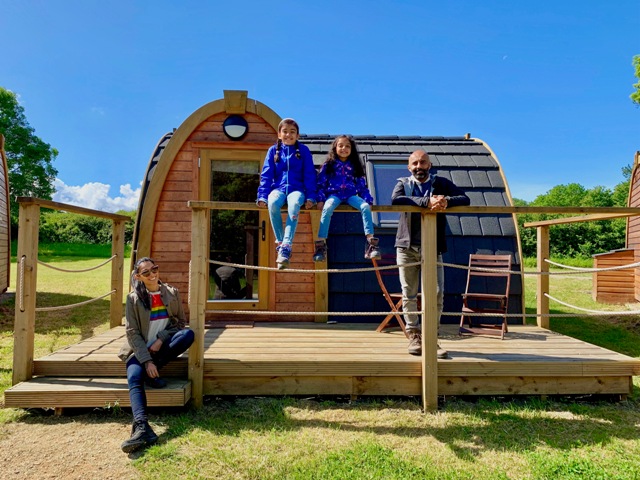 Choose to stay overnight at Camp Baboon and you're in for an ultimate city safari treat. The Wild Place Project, a conservation park in Bristol offers a unique opportunity to explore and enjoy the exotic and endangered animals long after the gates have closed. With the added luxury of a heated wooden pod complete with cosy beds, soft furnishings and a lovely en-suite for lodgings.
It's a special stay for kids and adults alike with an evening of bush craft activities, night time tours of the animals followed by a hearty dinner and ending with marshmallows round the campfire – Just perfect! After an early morning wake-up call you help to feed some of the animals before breakfast and finally wave goodbye to an incredible wildlife experience.
This is not a traditional zoo with animals caged up, the emphasis is conservation where rescued and endangered animals get to live in a natural environment. It's an amazing insight into wildlife conservation. What's not to like about a mini safari with luxury lodgings?!
Sima, The Curious Pixie
Jetwing Safari Camp, Sri Lanka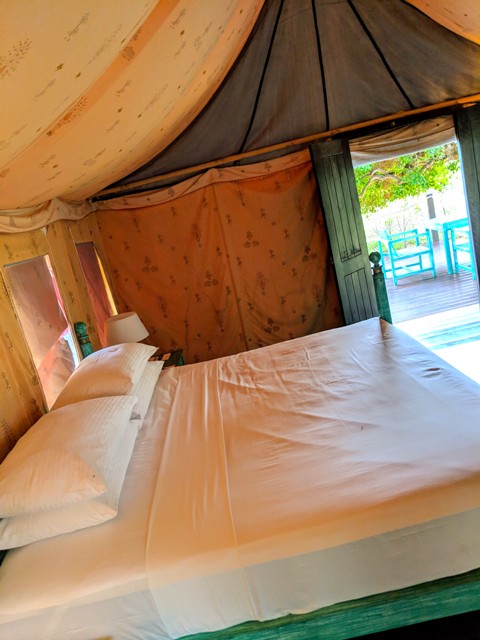 The plush and luxurious Jetwing Safari Camp is located on the edge of one of Sri Lanka's most unique natural habitats. Yala is home to the highest concentration of leopards in the world, making it one of the best places on the island to experience a safari.
Glamping in one of these jungle tents makes the safari experience unforgettable, yet you keep all your creature comforts.
The accommodation under canvas is huge (almost 80 square meters) and includes stylish ensuite bathrooms. Jetwing's absolute commitment to the environment means your shower, along with the rest of the site, is powered and heated by eco-friendly solar panels and cinnamon wood.
When not relaxing in the cool and elegant wood-framed tent, you can watch everything from wild boar to local birds from your private veranda. Or take Sri Lankan high tea in the excellent restaurant then enjoy a dip in the oceanfront pool.
Outings to Yala National Park are full morning or afternoon affairs, offering the chance to spot crocodiles and monkeys, elephants and eagles, as well as going in search of the sought-after Sri Lankan leopard.
Jaillan, SavoirThere.com
L'Essenza Oasi Sensoriale in Northern Sardinia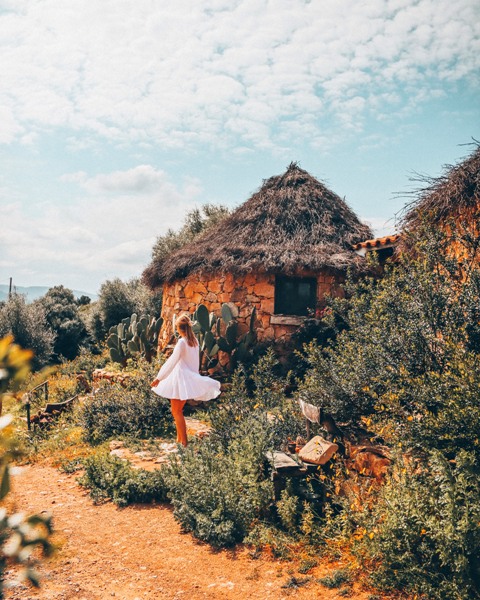 I love staying in unique accommodation around the world, so when I had the opportunity to stay in a traditional old Sardinian shepherd hut, called a Pinnetu, in northern Sardinia, I couldn't resist! These are small round huts, with a roof made of tree branches. Apparently, due to the circular structure of the Pinnetu, the energy is stronger inside these rooms rather than square shape rooms. L'Essenza Oasi Sensoriale specialises in producing essential oils, so each Pinnetu is a different colour inside to symbolise the aromatherapy used in this room. As an asthma sufferer, I was in the Myrtle room, which was all white, with myrtle essential oils being diffused throughout the stay. The grounds of the Pinnetu are all filled with natural herbs and plants, and are amazing to walk around. I had such an incredible experience here; it really was unique and special!
Hanna, SolarPoweredBlonde
Have you been glamping? Tell us where in the world it was in the comments below x