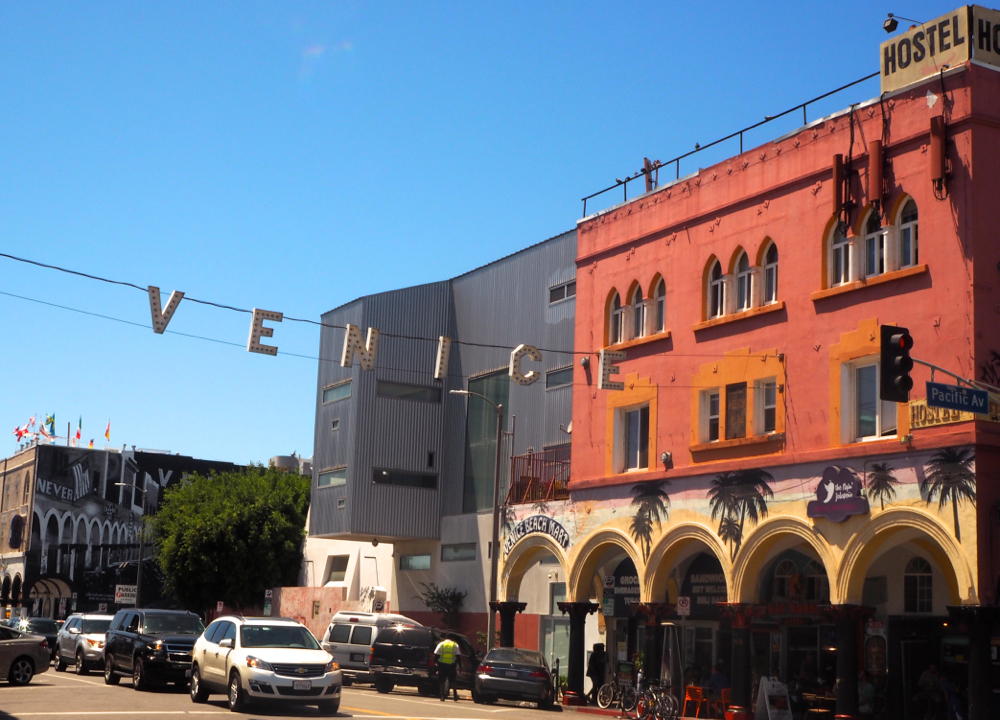 Located just steps from the golden sands of Venice Beach, the Hotel Erwin scores top marks for location if you're interested in sand, surf and the eclectic, boho vibe of Venice.
Stay here and all of Venice is on your doorstep – including the shops, bars, skaters and even that slightly eccentric Indian fortune teller on rollerblades. Bear in mind this is an urban neighbourhood – Venice during the day feels like Camden, but at night, it quickly can feel a bit 'sketchy' at times, and you'll want to keep kids close by.
The unimposing hotel entrance is hard to see if you're arriving from Pacific Avenue, and we actually drove by twice, stuck in Venice's one way system – you actually need to swing down Winward Avenue and drive directly through a car park (do not stop or pass go, it'll cost you 20 bucks) to find the hotel entrance, where a valet will take your car, and deliver your luggage to your room.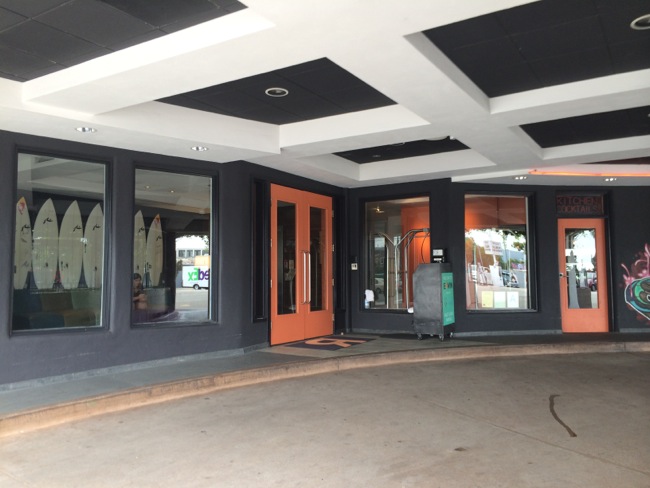 The hotel lobby is small but colourful and stylish – there are surf boards on the walls, with movies projected onto them, and a small bar/restaurant promising Californian cuisine and drinks.
The entire hotel has been recently renovated and we stayed on the 6th floor – we were told this area has been fully refurbished, with bright, spacious rooms that offer great ocean views. On this floor, rooms also have higher ceilings and newer bathrooms then some other floors, so I recommend opting for this floor if you can. Prepare your legs for a lot of climbing – Hotel Erwin has the most ridiculously, painfully slow lifts I have ever experienced in a hotel, and the problem is only exacerbated by the number of people not staying at the hotel who use the lifts to get up to the rooftop bar. You'll wind up using the staircases, especially during the evening when the hotel gets busy, or facing a long wait in line to get up to your room.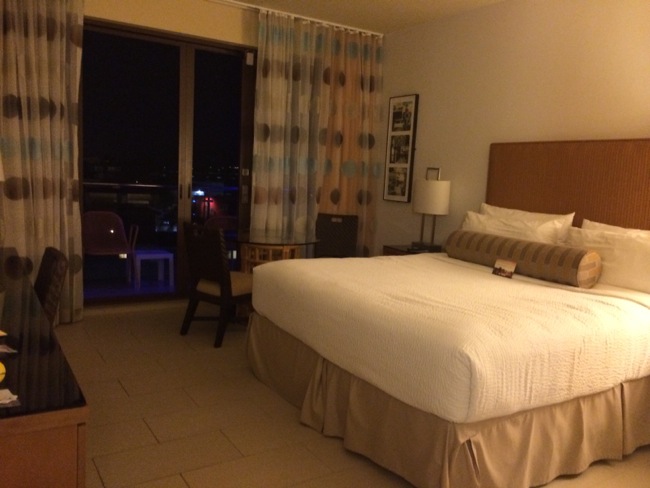 The bedroom decor is fine – bright, modern and clean. The lovely white bathroom was very large and impeccably clean, with a good range of complimentary toiletries and a truly impressive shower. We appreciated that guests have complimentary WiFi access using up to three different devices, and the HD TV, Nespresso machine and great quality beds made the room feel very comfortable.
Perhaps the nicest part of our stay at Hotel Erwin was the view – just one floor below the roof garden, we had a fabulous partial view of the ocean which we could enjoy from our small balcony. The large doors opened fully, and a screen meant we could enjoy the breeze late into the evening without the bugs feasting on us. We paid for a full ocean view but our room was at the side of the hotel so the view was kinda ocean, once you looked over the car park… it was still pretty, though! Some rooms at the front of the hotel have full ocean views, which I imagine must be pretty spectacular.
Hotel Erwin says on its site that it goes above and beyond for guests, and in lots of ways that's true. Guests have complimentary gym membership at a local gym, and you can book a range of fun room service packages, including milk and cookies at bedtime. We found the check-in and valet staff to be really friendly and helpful, answering our questions about directions and being generally patient when I drove into the hotel the wrong way and then needed to return to my car in the middle of the night.
There were some small niggles – when we checked in our room wasn't ready, and the staff on the front desk declined to take our luggage and store it, suggesting, "You can just leave it in your car." No offence, but Venice isn't a neighbourhood where I want to leave all my worldly goods in the back of my car.
The rooftop bar, called "High", is a deliberately cool spot where the young and beautiful hang out to watch the sun set over Venice Beach – ordinarily access is restricted to over 21s, but the hotel makes an exception for hotel guests.
I found the service here rather lacklustre, with an uninterested hostess telling me there were no tables for at least two hours, and failing to mention that we could still enjoy a drink at the stand-up bar, which we ended up doing. It would be nice if we had been offered the chance to book a table when we'd checked in, as we ended up simply having a drink here and then heading out elsewhere for dinner. But it is a lovely spot to watch the sun set and if we'd booked ahead, I'm sure we'd have enjoyed eating here, the menu looked delicious.
Overall, Hotel Erwin is a clean and modern hotel that you'll love for its location. It's hard to imagine being more centrally located, with Muscle Beach, Venice Beach Boardwalk, and countless bars, restaurants, skate parks and more on your doorstep.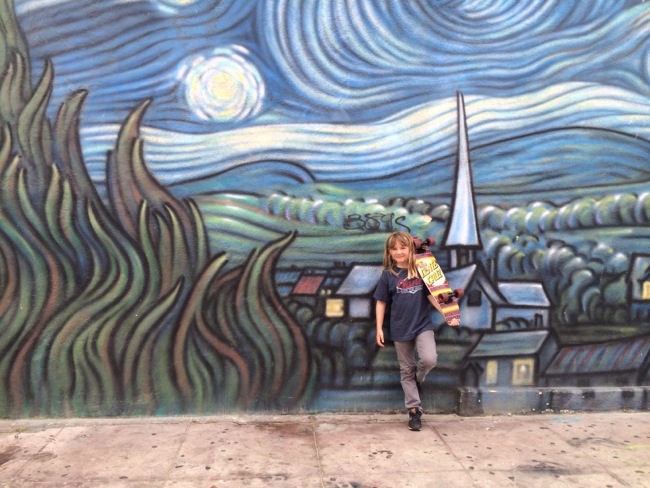 My prediction? You'll forget all about those pesky lifts the moment you step out onto the balcony and look at the sun over the palm trees just a few steps from your room. Check out the video below for a detailed room tour and a sneak peek at the rooftop bar.
Our King Size room for 2 people with an Ocean View cost $350 not including breakfast (prices correct as of August 2015)