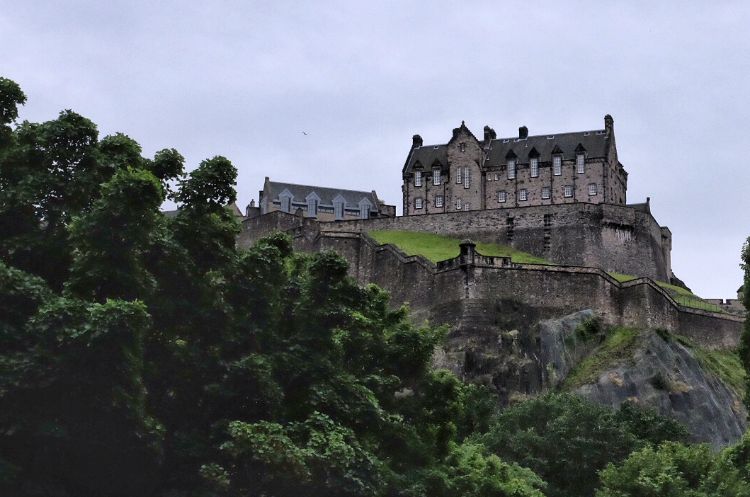 As an American I love European cities, I almost typed "old European cities" but aren't they all? For an American in Europe, all cities feel old – you can positively feel the history oozing from every narrow street and weatherbeaten building.
We recently spent a long weekend in Edinburgh (one of the most historic cities in the UK – cue excited squeal from me when the opportunity came up) and we found there's so much more to the Scottish city than the world-famous festival.
We drove up from Manchester stopping off at the "best motorway services" in the UK.  I did scoff at this claim but I couldn't have been more wrong. Tebay services has a full service butcher, lovely pastries and cakes and some really cute home and kitchen items. Once I managed to drag myself out of there  we were back on the road; it took a little over four hours to get to Edinburgh.
Once in Edinburgh and we checked into our luxury apartment at The Knight Residence, a serviced apartment just a few minutes' walk from Edinburgh Castle.
Our two-bedroom apartment was clean, modern and stylish, and included its own full kitchen and sitting room, along with free WiFi, HD TV and Blu-Ray player.
Once checked in, the concierge at The Knight Residence helped direct us to some of the city's best sights – we were relieved to find everything we wanted to see was within walking distance of the apartment.
Our first stop was Edinburgh Castle – frankly, you can't visit this city and not spend a few hours admiring the views from the castle turrets, and oohing-and-aahing at the Scottish crown jewels. I'd recommend getting there early, and timing your visit so you can hear the one o' clock guns, which go off every day but Sunday. Entry costs £6.50 for adults and £9.90 for kids – there's plenty to see and I think the cost is fair.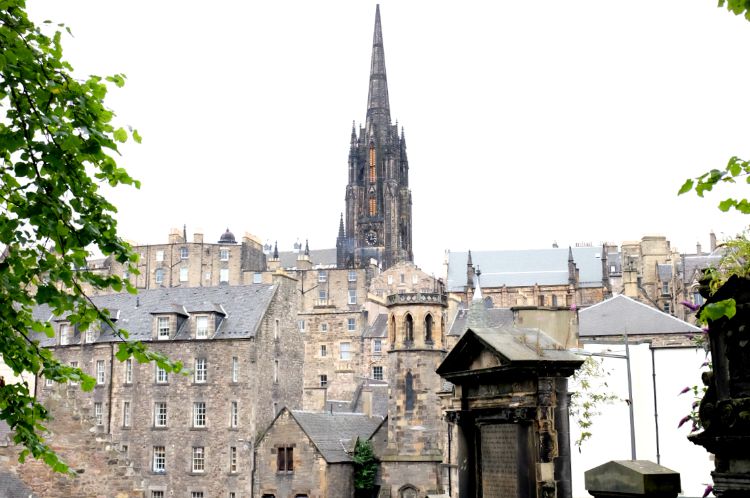 If you love old churches and history then Greyfriars Kirk is a must. This church sits in the heart of Edinburgh's Old Town, on a site where a church has sat since 1620. It's a lovely spot to sit and admire the views, and there are regular concerts and exhibitions held here. The kirk is just a few minutes' walk from the Royal Mile and entry is free. Also nearby is the Greyfriars Bobby memorial – if you haven't heard of this great story of the faithful dog who guarded his owner's grave for more than 14 years (sniff), then you can read about it here.
I live with a fully-fledged Harry Potter fanatic, and so we always knew part of our walking tour of the home city of Harry's creator would be Potter-themed. Actually, Edinburgh is a great place for any Potter fan to visit (especially on a cold and gloomy day, when it all feels very Hogwarts-esque!)
We kicked off at Greyfriars Kirkyard searching for Tom Riddle's grave, and if you look hard, you'll find Snape is there, too! From the graveyard, it's a short wander over to The Elephant House, where JK Rowling wrote the first Harry Potter novel, and you can even search out the school that might have inspired the names of Hogwarts' four houses and school colours.
A walking tour of Edinburgh is the perfect opportunity to admire the city's architecture – the Scottish Parliament was a real highlight for us, with a stunning building. There are guided tours which are free, and run on Monday, Friday and Saturday (tours are more frequent during parliamentary recess). Inside the building you'll find some stunning photography exhibits that will stay with you for days.
If the Royal Family isn't in residence, then the next stop on your walking tour of Edinburgh should definitely be the Palace of Holyrood (family ticket £30.20). It's easy to get to but give yourself plenty of time to get around and see everything. There's also Holyrood Park for those looking for a bit of fresh air. From here, you can walk up to Arthur's Seat if you're feeling energetic, this rocky summit towers over Edinburgh, and there are amazing views in every direction.
Central Edinburgh offers some exceptional places to eat out, whatever your budget. Calistoga, just off Rose Street, is a great option for a California food experience, and we enjoyed lunch here very much – at just £2 for Mac and Cheese with chorizo, it's great value if you're eating before 7.30pm.
We also found great burgers at Cambridge bar on Young Street (I highly recommend the Three Alarm Burger at £9.95) and Indian tapas at Mother India.
However, if you want to go full-on Scottish (and you really should!) then the only place to head to is Whiski Rooms in the Old Town. This is a formal establishment, so perfect for a special dinner, and it offers a wide range of Scottish food, ales and (of course) whisky. There are special offers on lunch set menus, which are pretty affordable, too.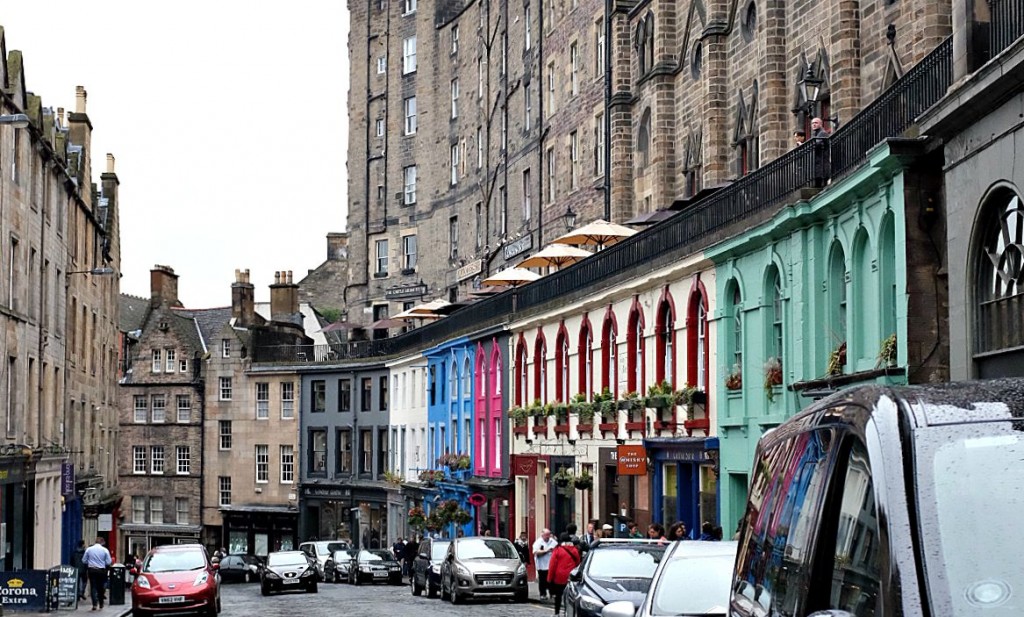 Our visit to Edinburgh was made all the nicer by the great accommodation.
After a long day walking around the city, it's great to be situated somewhere central – The Knight Residence is in Soho and within walking distance to all the sights on our walking tour!
Guests have access to secure, off-road parking for £7 a day, and a two-bedroom apartment with full kitchen, sitting room and dining area costs from £420 a night. It's definitely at the luxury end of the market, but we felt the quality of the accommodation, and the service from the staff and concierge reflected this. The Knight Residence combines the luxury of a hotel with the comfort of self-catering – we certainly appreciated a home-cooked breakfast before a day spent walking up and down the hills of Edinburgh! 
The apartment was well kitted-out, even with a selection of complimentary breakfast items. My very British husband also appreciated the lovely selection of teas which really hit the spot after a long day walking around the city!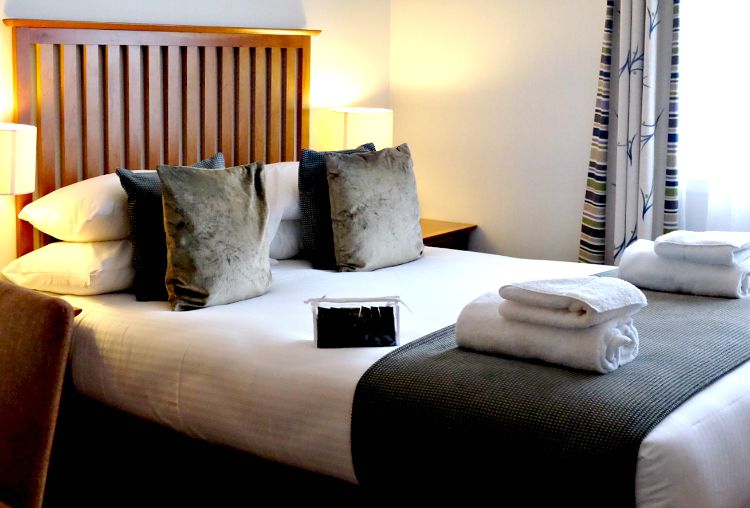 There was a map in our apartment (as well as a much needed umbrella) so we set off fully prepared for what Edinburgh has to offer!  When we did have any questions, the concierge was full of helpful tips.
My top tips for visiting Edinburgh are:
Wear comfortable shoes- it's hilly!
Do a bit of research about where to eat- Edinburgh has some truly amazing places to eat and it really is a foodie's playground!
There are loads of places to see that are free so it doesn't have to be an expensive place to visit.
If you're visiting with children be aware that pubs only allow kids if you're having a full meal- no popping in for a drink and nibbles!
Walk! Get lost! Let the atmosphere of this amazingly atmospheric city seep into your soul!
We received a complimentary 2 nights stay at The Knight Residence.