The Canary Islands, fondly known as the Canaries, are a group of Spanish islands located in the Atlantic Ocean.  The group are made up of  seven main islands  – Tenerife, Fuerteventura, Gran Canaria, Lanzarote, La Palma, La Gomera, El Hierro and much smaller islands and islets.  Due to the location (100 kilometres west of Morocco) the Canaries enjoy a year round average temperature of 22 degrees and therefore are popular with tourists in all four seasons.  The islands are renown for their varied landscapes of looming volcanoes, historical sites, lush green pine forests, lava tubes and miles upon miles of Sahara-style sand dunes.
I recently shared six ways to explore France, Italy and Greece and today I'm delighted to share six different takes on travel in the Canaries, as experienced by travel bloggers in the Trips100 community.  I hope the articles below will inspire you to book a trip!
Live like a local in Tenerife
Paulina from Paulina on the Road shares her expert local knowledge from living in Tenerife in this useful post – Tenerife's Top 7 from an Expat View.  She proves that Tenerife is not just a beach destination but is also the perfect island for hiking, dining on fine local foods, mingling with the friendly locals and trying out a new sport.
Soak up the sun in Fuerteventura
Emily from That Emily recently enjoyed a relaxing beach holiday in Fuerteventura. She shares her thoughts of sunbathing on the volcanic sandy beach whilst listening to waves crashing and recuperating with a huge stack of books in this post – Royal Palm Hotel, Fuerteventura. 
Explore the beauty on foot in La Palma
Anna from The Cruise Blogger has published a useful guest post featuring how to make the most of a day ashore in La Palma, known as the 'La Isla Bonita' – the Beautiful Island.  Highlights include the Caldera de Taburiente National Park, the black sandy beach of Playa de Bajamar and hiking the moon like landscape of Fuencaliente.
Get up close and personal to the volcanic landscape in Lanzarote
As shared over on Travel Loving Family, I recently returned from a short break in Lanzarote where I trekked across red sand dunes on a camel, ate food cooked by the heat of a volcano and explored one of the largest lava tubes in the world.  Here I've shared my 15 things to do in Lanzarote with kids and my thoughts on returning to Lanzarote ten years on.
Experience the world's 2nd largest carnival in Tenerife
Hannah and Thom from That Adventurer share their secret of Tenerife is this post – Tenerife Has A Secret & You Need To Know All About It.  "If I told you that Tenerife has a big secret do you think you could guess what it was? What if I told you that Tenerife held the world's second largest carnival after Rio? You probably wouldn't believe me, would you? I mean if it was the world's second largest carnival then surely you would've heard of it. Right?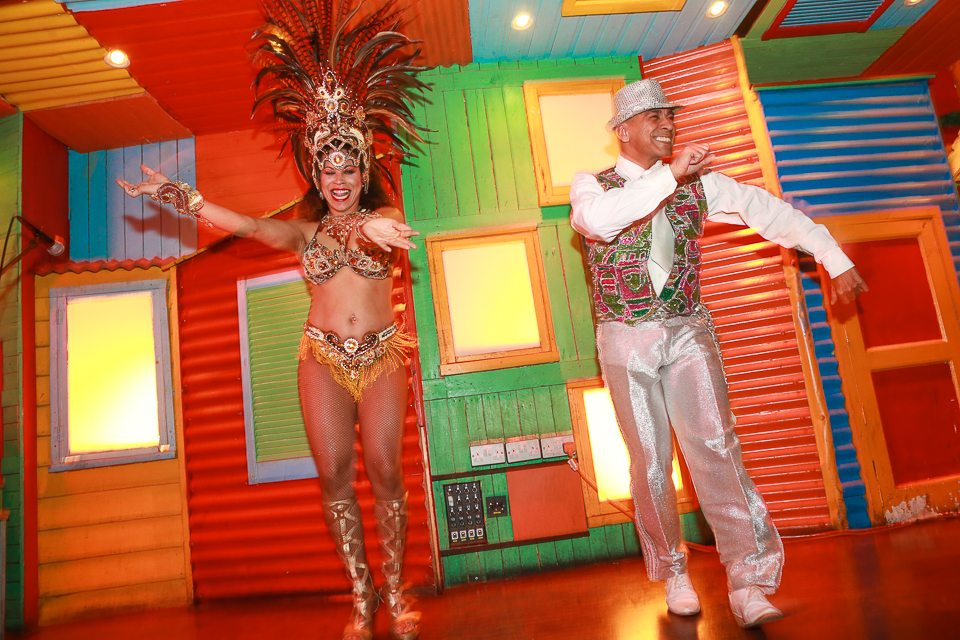 Discover Gran Canaria by bus
Angia and Matt from Self Arranged Journeys have shared their tried and tested tips for a holiday in Gran Canaria in this informative post – Gran Canaria – What We Did and How We Will Do It Next Time.  The couple recommend spending time exploring the picturesque streets with "bougainvillea-covered arches and tidal channels which earn the village its nickname 'Little Venice' and keeping shade from the heat of the midday sun by people watching from a waterfront restaurant".
Do you have a great post to share about the Canaries?  Do leave it in the comments below, we would love to have a nosy!