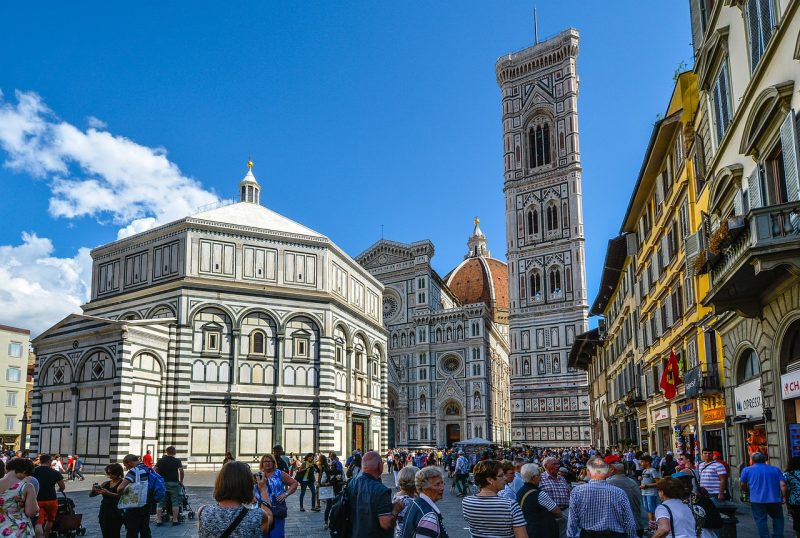 Florence, the capital of Tuscany in Italy, is considered the birthplace of Renaissance. In 1982 the Historic Centre of Florence was declared a UNESCO World Heritage Site. Millions of visitors are attracted to Florence every year as it is famous for its culture, Renaissance art, architecture, statues, museums and art galleries.
We asked six travel bloggers who are passionate about Florence, to tell us about their visits; to suggest 'must-see' places, with tips on how to make your own visit perfect!
Romantic Panoramic Views from Piazzale Michelangelo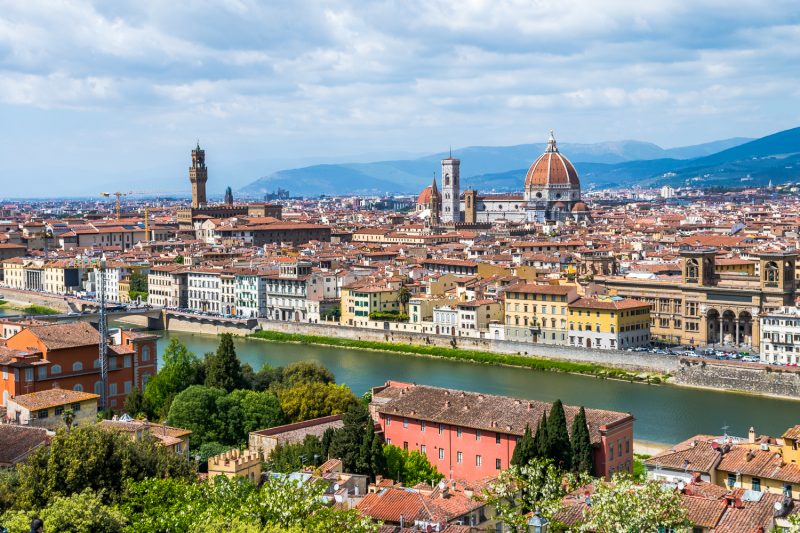 One of the best ways to explore Florence is by walking. A particular nice walk that I like is the one that leads up to the Michelangelo square. It's a square situated on the top of a hill where you get incredible panoramic views over Florence and the famous Duomo as well as several other famous landmarks. On your way to the top, you can see lush gardens and beautiful flowers.
Piazzale Michelangelo as it's named in Italian is dedicated to Michelangelo and feature several copies of his works. There are also often performers playing guitars by the stairs on the top, which is very romantic and perfect way to see the sunset with a loved one or friends. The view is so beautiful and just sitting there on the stairs and listen to wonderful music is pure bliss for the soul. Bring some snacks and wine, or buy some food from the food trucks at the square, and just watch the sun goes down.
My top tip for planning a visit to Florence is to go during spring or autumn. The summer months are very crowded in Florence with visitors from all over the world, and if you have the opportunity to visit in May or September, I would highly recommend it. The prices are also lower then, and you'll find more options for accommodation.
Alex Waltner from Swedish Nomad
Search for Blub's Graffiti Works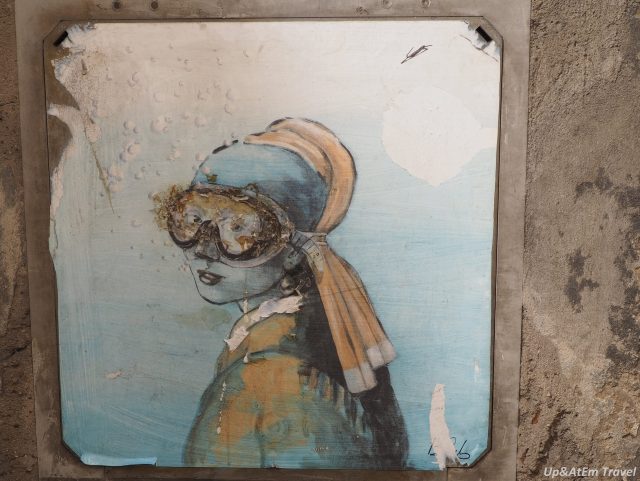 The Italian city of Florence is renowned for its incredible art and architecture – from Michalangelo's famous David Renaissance sculpture to Boticelli's Birth of Venus painting. However, beautiful artwork is not only housed within museums. The Piazza della Signoria showcases a variety of sculptures in an open-air display area, and the city's most iconic structure, the Cathedral of Santa Maria del Fiore (also known as il Duomo) boasts beautiful exterior decoration, including colourful marble panels, realistic paintings and sculpture.
Even more recently, a graffiti artist has been recreating well-known images around the city – placing human subjects in snorkel masks and signing his works as Blub. (We even saw one of his works in Pisa, and apparently, he has left pieces across Europe.) His series L'arte Sa Nuatare, which means 'art knows how to swim', has included remakes of Da Vinci's Mona Lisa and Johannes Vermeer's Girl with a Pearl Earring. But his nautical themed portrait posters have included Leonardo da Vinci and Amy Winehouse.
Stumbling across his works on the streets is always fun, but many visitors won't find one of his paintings, located inside a restaurant. You can find Mona Lisa, his first piece in Florence, just outside of Trattoria Cent'ori. And if you're hungry, enter the restaurant to see another portrait next to the entrance. You can enjoy a simple good value meal and chat with the owner, who is friends with the mysterious Blub.
Alison Roberts-Tse from Up&AtEm Travel
Take Caterina's Milano 25 Taxi Tour
A few years ago I was in Florence and needed a cab. Suddenly a colorful painted car with a lady in a charming costume stopped. It seems like she came straight out of a fairy tale.
Later on, I heard she inherited the car from her partner who died from cancer. She promised him to keep driving the taxi. She drives young cancer patients to the hospital for free. This way the trip to their next chemo gets a bit easier.
But she is still driving through Florence to drive you to your next destination. You can also hire her to show you the highlights of this beautiful city.
So, if you don't have much time to explore the city, a trip with Milano 25 is a great way to see the highlights in a short period of time.
Caterina can be found on Facebook; you can also see her and her Milano 25 in this YouTube movie.
Wendy Maes from Worldwide Wendy
Visit San Miniato al Monte Church by Vespa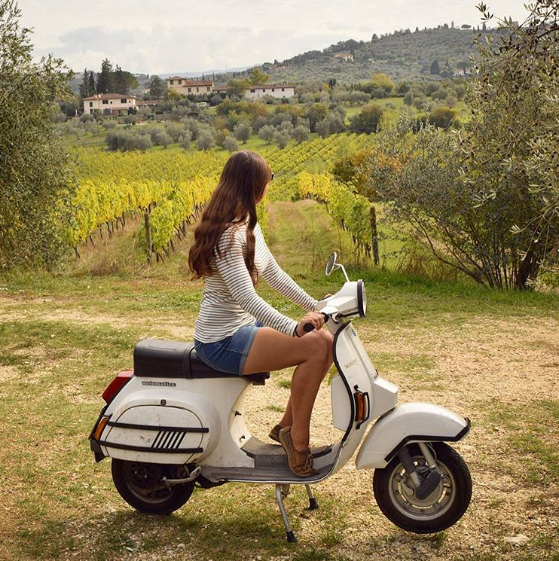 Five visits later, including one month-long stay, Florence continues to be one of our favorite cities in the world.
Want world-class art? Florence has that. Some of the best food in the world? Check. Adventure activities galore in the nearby countryside? Check. More amazing day trips within reach than any visitor could possibly have time to cover? Cobblestone streets? Epic renaissance history? Check, check, check.
Come to Florence for the history, for the architecture, for the art, for the food… and stay because you become so enchanted, you'll wonder why it's ever necessary to leave.
As the Cradle of the Renaissance, there are plenty of things to do in Florence that could top a "must-see" list for Italy or even Europe as a whole, but one of our favorites often gets overlooked – visiting San Miniato al Monte Church by Vespa.
Nestled in the hills above Florence, San Miniato al Monte boasts amazing views of Florence without all the crowds that gather at the famous Piazzale Michelangelo… and getting there by Vespa only enriches the experience.
Climb through the winding roads that lead into the hills of Tuscany from Florence, watch the city spread out below you, and when you arrive at San Miniato al Monte, marvel not only at the stunning views of Florence but at the beautiful 1000-year-old church itself.
If we were to give one tip to Florence visitors, it would be to plan ahead… especially if you don't have long in the city! Florence is small, and you can cover a lot of ground in one day, but sights like the Uffizi Gallery and climbing the famous cupola of Florence's Duomo do sell out, and other highlights like seeing David in the Galleria dell'Accademia are plagued with long lines.
Come with a plan, purchase tickets for any must-sees in advance, and you'll have an incredible time in Florence!
Kate Storm from Our Escape Clause
Visit to the World Famous Uffizi Gallery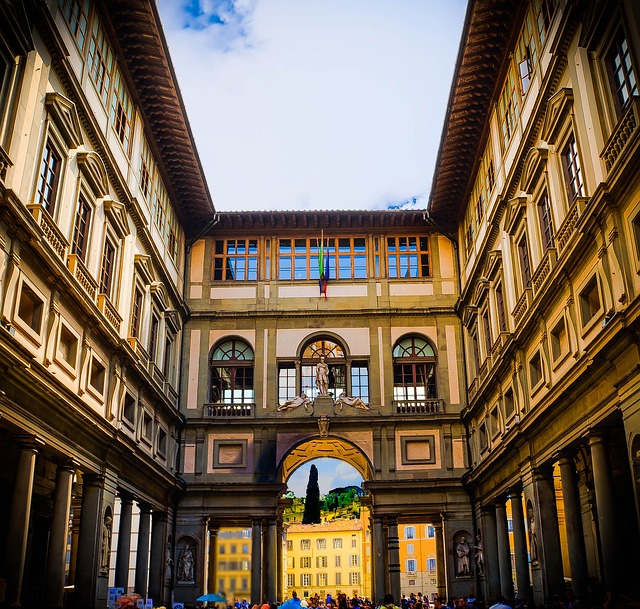 The cultural and historical powerhouse of Florence is brimming with amazing art and architecture. This magnificent city is centrally located on the Italian peninsula and is easily accessible from just about all of Italy. Of course, the first thing you must see when you visit is Brunelleschi's masterpiece, the Duomo. This iconic giant red dome is synonymous with Florence and is an integral part of the city's cultural, architectural, and religious heritage. Your next stop should be the Galleria dell'Accademia to see Michelangelo's David. Then onto the Vasari Corridor to walk in Cosimo de Medici's footsteps while you admire several centuries' worth of artists' self-portraits. Relax in the lush, Tuscan-style, Boboli Gardens. The park is filled with Renaissance and classical sculptures including the aptly named 'Boboli Obelisk.'
But, no trip to Florence would be complete without a visit to the Uffizi Gallery. Housing some of the most famous pieces of Italian Renaissance art in the world, the Uffizi is home to masterpieces by Leonardo da Vinci, Botticelli, Raffaello, Correggio, Caravaggio, and Michelangelo just to name a few. Even the building is a work of art. Completed in 1580, and designed by Giorgio Vasari, it was originally intended to house the extensive ancient statue collection of the Medici family, most of which are still on display there today. Some of the most notable works you should absolutely see when you visit include The Birth of Venus by Botticelli (Hall #41), Madonna del Cardellinoi by Raffaello (Hall #66), Venus of Urbino by Titian (Hall #83), Medusa by Caravaggio (Hall #90).
The Uffizi Gallery, like most attractions in Florence, are extremely busy during the high season (April to October). Always buy a 'skip the line' ticket beforehand or book a guided tour in order to skip the long queues.
Chrisoula Manika from Travel Passionate
Rub the Pig's Nose!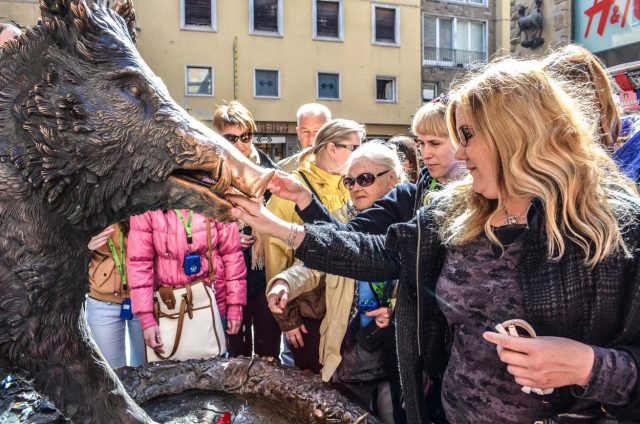 Florence is a paradise for art lovers and every corner that you turn is adorned with a masterpiece — waiting to greet you with most awe-inspiring manner. The city centre can be well described as an open-air museum, where you can spend countless hours admiring the breath-taking aura of Tuscany's glorious capital. While wandering around the area of Ponte Vecchio make sure to visit the famous bronze statue of a boar which goes by the name Il Porcellino, which actually translates as a piglet. There is a legend told by the locals that you must place a coin inside the pig's mouth after having rubbed its nose – if the coin falls into the grates and is washed away by the running water – you will be blessed with good luck. If not, oh well you might be luckier next time around!
What stands today besides the arches of the Mercato Nuovo is in fact a copy of Pietro Tacca's work completed in 1633. The original is housed inside the Uffizi Galleries. The Porcellino statue is a popular stop for all the walking tours. There is also a small market surrounding the statue with stalls selling leather goods and souvenirs. If you do want to visit it at a quieter hour then opt for early morning before all the crowds get here.
Elena Sergeeva, Passion for Hospitality
Do you have a great post to share about Florence? Or your very own 'off the beaten track' must-see?  Tell us in the comments below. We'd love to read them!