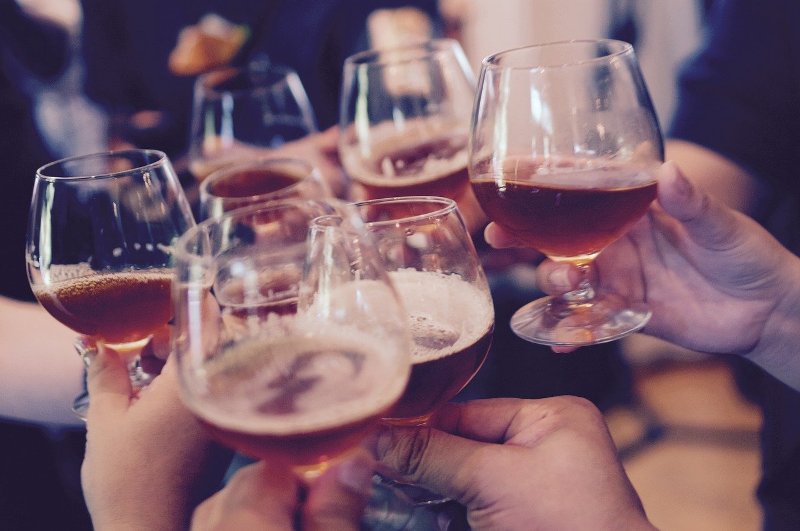 With the end of 2019 fast approaching I thought it would be nice to read about some travel blogging successes throughout the year. A milestone met, an award nomination, or an opportunity grasped … here are some of the highlights from our travel bloggers' year.
I had only started travel blogging in June 2018, and I took my blog seriously from the very beginning. I did so much research on every aspect of blogging, including how to monetize, and the one thing that stood out was getting accepted to the ad management company – Mediavine. Every blogger working with them said that they were a game-changer in terms of earning passive income, so getting accepted was a big goal. After the first few months of blogging in which I had no idea what I was doing, I finally understood SEO and Pinterest better and the growth was amazing. After only 13 months of blogging, I applied to Mediavine and got accepted within a week later, and now, I'm another blogger that can say that it is a game-changer. It definitely feels amazing to work hard and see results, especially when those results are actual money!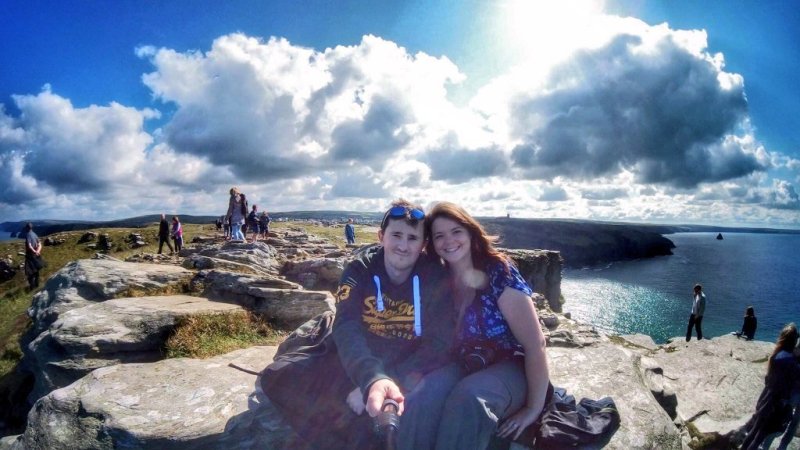 Together with my husband, I launched our couples travel blog Wanderers of the World three years ago. It has been a steep learning curve as we didn't know anything about blogging when we started. Thanks to some serious work on SEO and Pinterest last year, we hit several of our big blogging goals in 2019. In February, we finally gained enough traffic to qualify for Mediavine ads. We also started focusing on our affiliate marketing strategies soon after that. And at the beginning of December 2019, I decided to take our blog full-time. It's obviously early days in this new journey but we're excited where it could lead. 2020 will involve yet more work on SEO and Pinterest, and now that I've got more time back to focus on the blog, we've got some exciting projects coming up over the next few months, which will help us to diversify our income even more.
There were several highlights in 2019 for me with regards to my travel blogging: from getting approached to do my first sponsored trip (a 9 day trip to Iran!), to quitting my job as a flight attendant and becoming a full-time blogger! But probably for me the biggest highlight was reaching the finals of the UK Blog Awards 2019 when my blog was still less than one year old! I got serious imposter syndrome when I checked out the blogs of all the other finalists who had made it through. I was up against some really fantastic blogs and felt like I really didn't deserve to get that far. And whilst I didn't win the award, I was so grateful that people had seen the potential in me, and it really gave me the motivation to continue pursuing this dream!
I'm a hiking and outdoor adventure blogger. I focus on empowering and inspiring my audience to get outdoors and explore! 2019 was my first year as a blogger and it's been a huge whirlwind of transformation and growth. At the beginning of 2019, I made my first affiliate sale and earned a penny. I was so excited for that penny, fast forward to the end of 2019 and I've worked with brands that I love and admire, partnered with my first tourism board, surpassed my website visitor goal of 5,000 and hit 12,000 visitors in one month, and grew my email list to over 1000!
My goal for 2019 was to build my Italy destination Facebook group to support my blog and business goals but little did I know that the group would grow to be so much fun and a source of inspiration for my own travels.
From humble beginnings in January with only 500 members it has since grown to over 22,500 members with 100s of questions asked and answered each week. We have members from all over the world looking for support and advice on planning and booking their trips to Italy. I love that experienced travelers jump in and share their experience and knowledge freely and members excitedly share photos from their trips. We've even had a few engagements! But the best part is getting emails of thanks from members who have planned trips of a lifetime using the support from our group.
We're looking forward to 2020 and helping people discover lesser known parts of Italy. The popular hotspots are becoming very crowded and putting pressure on local communities. So we feel like it is our duty to promote destinations that welcome and sustain tourism off the well beaten path.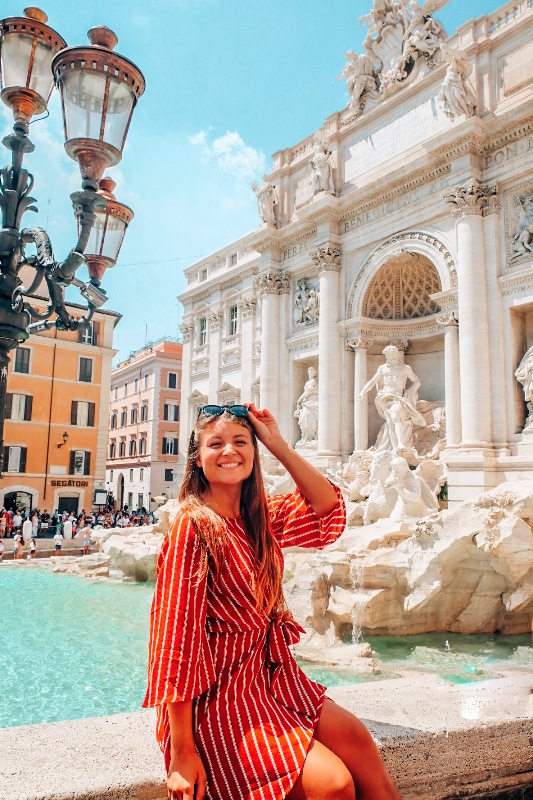 My travel blogging highlight of 2019 is actually starting a travel blog! I had started one once before and gave up (a part of me believes it was bad timing and that I wasn't ready yet) but this time I stuck with it! I'm now 7 months into my blogging journey and although I haven't made any money yet, I reached my highest page views in one day just last month! Over 1,000 pageviews from a pin on Pinterest that went "mini-viral". Although my blog is still so young, I think I'll look back on these smaller but incredibly important accomplishments and be grateful for each stage of blogging. The beginning can be hard, but each milestone is incredibly rewarding!
The first half of this year was tough on the blogging front. After pouring my heart in for almost a year, I felt discouraged for not seeing a single cent in return. I began wondering if starting a blog had been a mistake and if I would've been better off choosing a different way to earn money while traveling. That's when I got a huge boost of confidence in the form of a juicy $500 commission. A copywriting course I'm an affiliate for was doing a promotion, and even though I only had a meager 90 email subscribers on my list, I thought, "What's the worst that could happen?" I scheduled a few emails to go out during the week of the promo without expecting much. Then on the last morning of the sale, I woke up to an email saying someone had actually purchased—SCORE!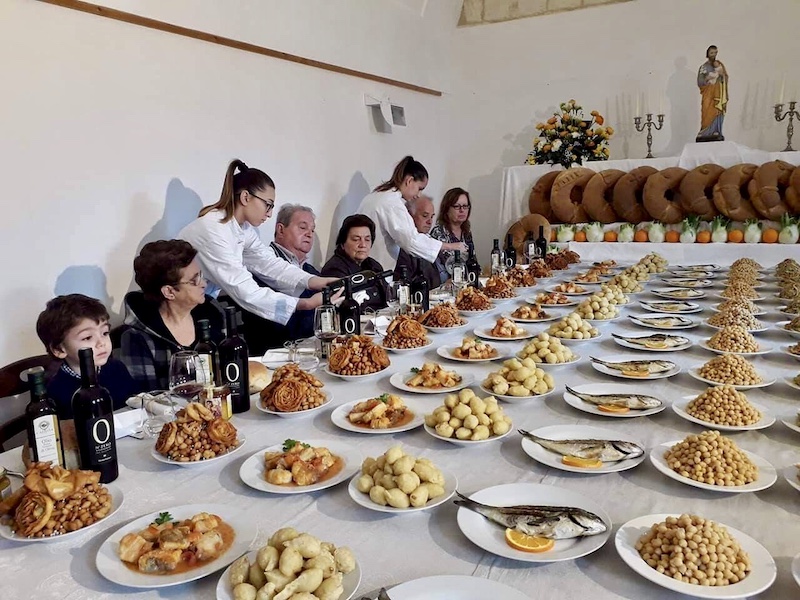 A highlight of my travel blogging for 2019 was appearing on Italian TV, playing the role of Saint Elizabeth at the Tables of St. Joseph Festival in Minervino di Lecce, Puglia, Italy. Attending a religious festival is one of the top things to do in Minervino di Lecce and during this spring festival, families, churches and municipalities create a Tavola di San Giuseppe (Table of St. Joseph) in their home or public space, according to precise religious rules and traditions. The tables are set with 13 places, representing the Holy Family and 10 saints, with members of the community and dignitaries (that's where I came in) taking a seat at the table and eating the Holy dishes which include massa (chickpeas in pasta), ceremonial bread, pickled onions, fish and more.  Apparently, I was chosen to play the role of Saint Elizabeth because I looked like her. And regrettably, it wasn't the beautiful Saint Elizabeth of Hungary I resembled as I originally thought,  but rather Saint Elizabeth who gave birth to  St John the Baptist at an "advanced age"  So, along with my symbolic elderly "husband" Zachariah (who prompted me on what to do with hand gestures) I had a honoured place at the Table of St. Joseph at the church and later in the public square, where my performance – which involved eating a bite of each of the ceremonial Holy Dishes – was filmed by Italian National TV as part of the coverage of the important religious holiday. Fortunately, my appearance on Italian television was a non-speaking role.
Travel writing can be a lonely business, especially when you're writing for your own website. Sometimes you feel as if you're talking into a void. Without feedback, it's hard to know if you're doing the right thing. That's why the highlight of my year was getting some much-appreciated recognition in a variety of travel awards. In November I received a Gold Award for an article on Reverse Culture Shock in the Canadian Chapter of SATW (The Society of American Travel Writers) travel writing competition, as well as a Bronze for a resort review on Mashpi Lodge, an eco-friendly lodge in the jungles of Ecuador. Earlier this year I was given a Gold in the North American Travel Journalists Awards (NATJA) for the same article on Mashpi Lodge and an Honorable Mention for a piece about a Galapagos Cruise on the Santa Cruz II. As a big fan of hot springs and spas, I was pleased to also win a Gold for Best Lifestyle or Wellness Feature for an article about an Italian spa in the (TMAC) Travel Media Association Awards. Since I'm sure I'll never achieve this perfect trio again, I'm going to enjoy the fleeting thrill and be grateful that someone besides my mother gave me a pat on the back.
In 2019, SEO efforts paid off, and many of my language-learning posts started ranking #1. One nice benefit of achieving the top search spots is that external link building starts to happen naturally. People share your posts on forums, social media, and their sites. Universities and high schools now often link to my blog. It's rewarding to know educators are using my content! A top-ranked post on Spanish language schools generated many positive reader messages this year. These followers thanked me for giving them the courage to study overseas. It's truly the best part of the job knowing you're making a positive impact on others' lives!
A couple of months ago, I woke up to thousands of traffic from Brunei on my post about Brunei. When I noticed this, I literally checked on my Brunei post only to see if there's anything stupid I wrote there as I was afraid that the Bruneian government was eyeing on me for something that I wasn't supposed to write there.
As it turned out, the reason why I got hit by tons of traffic from this small but wealthy country is because… Rowan Atkinson. Yes, you heard me right. The actor known for his role as the legendary Mr. Bean is actually the reason why my blog was a one-hit-wonder.
I wrote my blog within the period of Brunei and LGBTQ law controversy earlier this year, I was trying to introduce the lighter part of Brunei that might interest people to still visit this beautiful country. And one of the things I mentioned there is the news about Rowan Atkinson's son who currently serves for the British Army, and is based in Brunei.
Apparently, around October and November, Rowan Atkinson flew to Brunei to visit his son. Bruneian citizens were digging the information about this, and since my blog mentioned both… My blog got affected by Bruneians' curiosity. Therefore, I'd like to personally thank Mr. Rowan Atkinson himself to highlight my blogging journey in 2019!
We have had our travel blog for a few years not but still feel like small fish in a big pond. We decided to go for it anyway and pitch our dream campervan rental company for our planned New Zealand road trip.
They replied letting us know they would love to collaborate. We were stunned, especially when our 2-week campervan rental was complimentary.
It was a massive confidence boost and we had so much fun sharing our trip in detail across social media. Our trip was during the winter months, so having a comfortable home on wheels with heating was essential for a family of four.
We had decided regardless of the outcome, we would hire through them anyway, so it made it pretty special being able to work with our dream brand. It was also the first time our girls got to experience snow.
My travel blogging highlight of 2019 was being featured in the Times Newspaper travel supplement. It came as a complete surprise to be mentioned, the first I was aware of it when I started getting traffic through from times.co.uk website. I had to get my Dad (who is a subscriber) to log on and find out exactly what had happened! It was only a small side-box, but to be mentioned in a national newspaper just over a year after I began was a great feeling and made all the early mornings tapping away at the laptop seem even more worthwhile. My wife's parents back in the UK went out and bought a copy so we could see it for real. It's a strange feeling to think that people across the country were opening their Sunday papers to find the words 'The Sabbatical Guide' a name dreamt up on a cold train journey to London when I was dreaming of travel! A hugely motivating experience which has led to further opportunities with other companies since.
You don't get to call your blog your business if you don't treat it as such. I've been making money with my blog for more than four years now. I paid for my university studies with it and have spent the rest of it travelling to more than 10 countries a year, some of which multiple times. When people asked me what I do, I would say "Oh, I study and do some work on the side." By thinking blogging is just a side thing, I didn't give it the chance to occupy my mind fully. Although I was thinking about it constantly. It takes a while to admit that you are trying something unconventional, but you have to be confident about it – no matter if you succeed or fail. By shifting my mind set, I became more confident negotiating and have said no to many proposed projects in 2019. When it doesn't feel right, it probably isn't right. If it doesn't elevate my profile or pay my fee, blogging is again just a hobby and not my business. Step up your game, and you will see how much changes!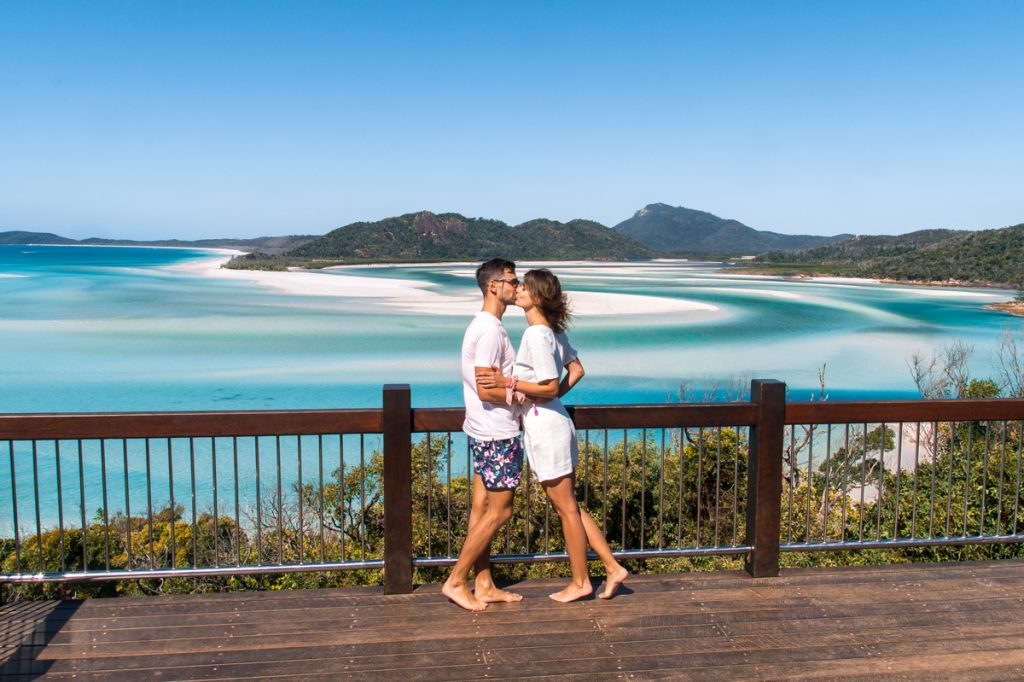 The year 2019 was absolutely amazing for our blog beachaddicted.com. My partner and I completed a five months journey around Australia. We managed to drive around the entire continent in our 4-wheel drive. During that time, we were happy to work with many tour companies, providing them with content creation and promotion on our social media. As we started our travels in Queensland, we got sponsored three dives in the Great Barrier Reef. We also got sponsored a day trip to Whitsundays and Frankland islands. In Darwin, we worked with the Darwin harbor cruise and enjoyed the sunset tour. In Western Australia, we dived in the Ningaloo reef and had an awesome trip to Rottnest Island. We also managed to increase our blog traffic from 0 to 6000 monthly views. Taking into account that our website was hacked last year in December 2018, we are on the right track.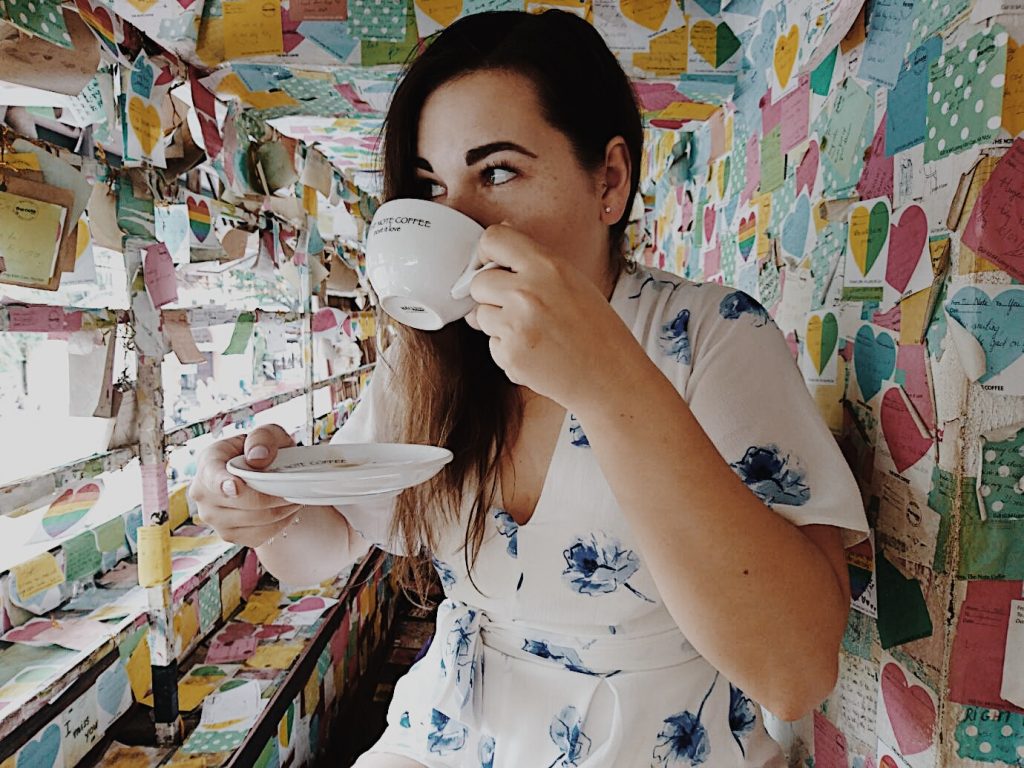 For something that started as a hobby, I could never have imagined the success I'd have while simply pursuing a passion. From record ever visitor numbers to featuring on a Huffpost article with some blogger heavyweights and representing younger travel bloggers on BBC Radio Gloucestershire – I've been pushed far out of my comfort zone and I LOVE IT! One of my biggest highlights is working with Visit Bristol on unpaid campaigns. Named as a 'Blogger to Watch' on their 2019 roundup, I enjoyed media representation at attractions and events for both the #SummerinBristol and #MerryBristmas campaigns. I surely can't forget to mention my recent win in the House 21 Blogging Awards. Watch this space, because the Millennial Runaway has got her sights set on success!
Ever since we entered the magical world of travel blogging back in 2018, we've had many a memorable moment to cherish. Probably the ultimate travel blogging highlight for us in 2019 was joining an amazing press trip in August which took us to the Pearl of the Indian Ocean, the laid-back dream that is Sri Lanka. We were invited by the country's Tourism Board to spend 10 spectacular days exploring Sri Lanka and its charms. This would be our very first trip to Asia and we couldn't be happier. From stunning countryside, pristine beaches, elephant safaris and a vibrant capital city, Sri Lanka had it all. Yet the number one reason we fell in love with the tear-shaped island in the middle of the Indian Ocean was the utter kindness of its people and this is also what makes us look forward to going back there soon.
This year, I went on my very first press trip! I was thrilled to be offered a spot on a trip to Hamburg, Germany that focused on sustainable tourism, because promoting sustainable and responsible tourism is a big passion of mine. It wasn't a city that I had ever thought about visiting, but I discovered that Hamburg has lots of cool things to see and do and an amazing vegan food scene. In addition to discovering a new place, the trip also gave me the opportunity to meet and network with some like-minded bloggers. All in all, it was a very positive experience and opened up my eyes to the possibilities that press trips can offer.
All that's left is to wish you all a very Merry Christmas, and I'll meet you back here early in 2020! x